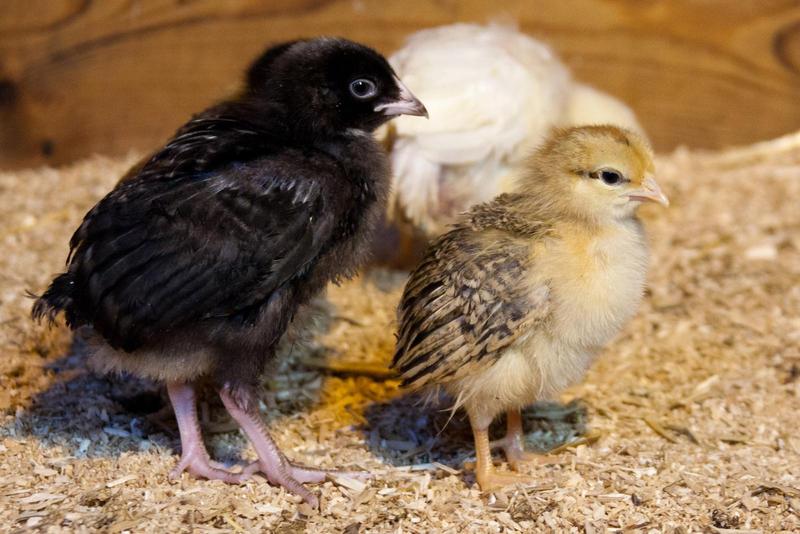 Backyard Chickens: Why We Got Them, Where We Set Up the Coop, and What's Next!
Our latest homesteading project!
Chickens?!
We were sure we wouldn't get any animals until our kids were old enough to do all the chores.
And yet here we are.
One sunny spring day—one day that I spent the baby's naptime inside working on my book while Randy cleaned out the backyard shed with the older kids—and all of a sudden he was back on the homestead bandwagon! The baby woke up, I walked outside, and Randy tells me, "We should get chickens! And bees!"
Chickens? Bees? Was he serious? I guess the spring weather reminded him just how nice it can be to work outside, instead of at a keyboard.
We decided to go for chickens first.
Chicken research
In our typical fashion, we dove right into research. What would our neighborhood allow? We don't have an HOA, so I checked the city codes—we could have 10 hens, no roosters.
How much space would we need? What type of coop? What should we do about hot or cold weather? Which chicken breeds? How do we feed and water them? How do we use chicken manure to fertilize the garden? Fortunately, we know a lot of folks with chickens, so we asked around for North Idaho-specific advice. Some of the agrarian, doomer optimist, homesteader, and localist types on Twitter also had some useful tips to share!
We were concerned about our weather. We get snow; it's below freezing a lot in winter. How do we keep their water from freezing? In the summer, it can reach the 90s; sometimes we have a whole week that's over 100. Fortunately, it's dry, not humid, and it does cool off significantly at night. Did we need to pick cold hardy or heat tolerant birds? Would we need to install a fan in the coop for airflow? What about a heater? Where should we put the food?
What about predators? We're in town in a neighborhood, so we probably won't get any coyotes, but what about hawks? Would mice get into the chicken food? Would the mic try to live in the coop in the winter?
Turns out, there was a lot of research to do.
We also took a walk through the yard to determine whether we actually had a good space for chickens.
The space
As it turned out, we had the perfect spot.
We had a corner of our backyard that was otherwise underutilized—and we love using every bit of our space the best way we can). A crabapple tree grows by the chainlink fence separating front yard from back. A row of tall broadleaf evergreens serve as a privacy hedge along the side fence, starting near the crabapple and heading back past our cement-floored pergola.
In front of the trees, there's a space that was once mulch and is now a combination of ground cover and weeds. We don't use that space for anything, beyond the occasional child flailing through the weeds pretending it's a jungle.
The trees would provide nice shade in the summer. The hens might like hiding under them, like our resident quail (not ones we raise, they just live here) and a variety of other local birds. We even already had a pile of dead leaves by the crabapple—the start of our future compost pile?
We pulled out a tape measure. Was there enough space? We'd read that we'd need a minimum of 10 square feet per hen. There was a good 7 feet from the side fence under the trees and across the mulch to the pergola. The front-back fence to the far edge of the pergola was 27 feet, giving us a good 7x27 rectangle, or 189 sqft. The chickens could also use the space under the coop, which was about 74"x60", or about 30 sqft. Combined, that would be plenty.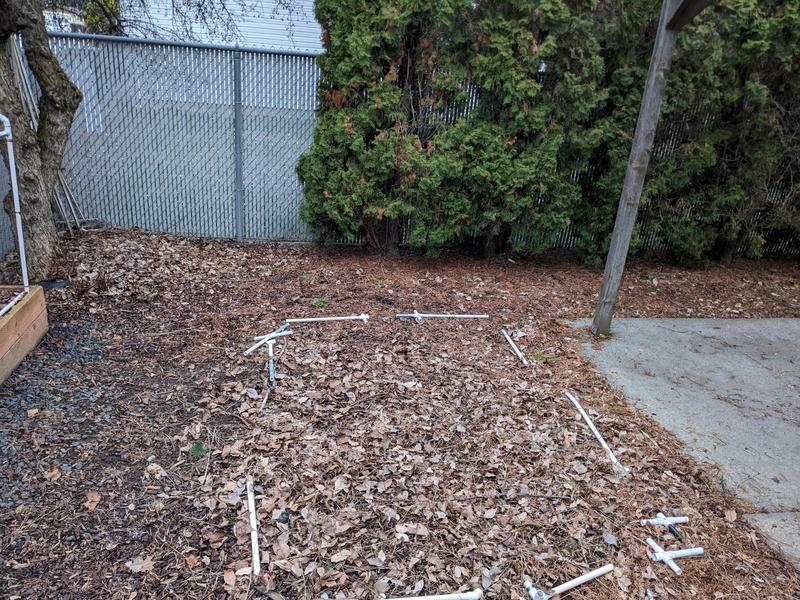 The coop
Randy researched coops. Within a couple days, he'd picked out a premade coop to purchase. We decided against building a coop from scratch ourselves because with the cost of materials and time, it probably wouldn't be that much cheaper. Right now, we have some available cash and not as much available time for a big building project like that—makes it easy I guess!
Fortunately, a local farm supply store had one in stock. Randy picked it up and we spent the next day assembling it. The kids were super excited about helping get everything set up—so much so that our 5-year-old told me he wanted to do more jobs that were hard work!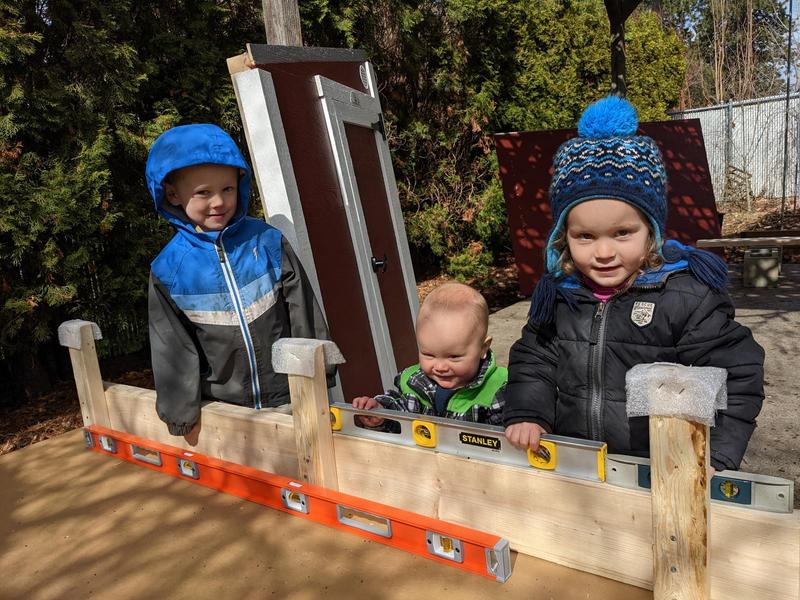 We painted the inside of the coop. The floor had some kind of resin coating that is supposedly moisture resistant and will help protect the wood; none of the particle board walls or studs had any kind of coating. We found some heavy duty primer and extra exterior paint in our garage, so the inside of the coop now matches the outside of our house! Randy added extra soffit vents to the coop to provide additional ventilation.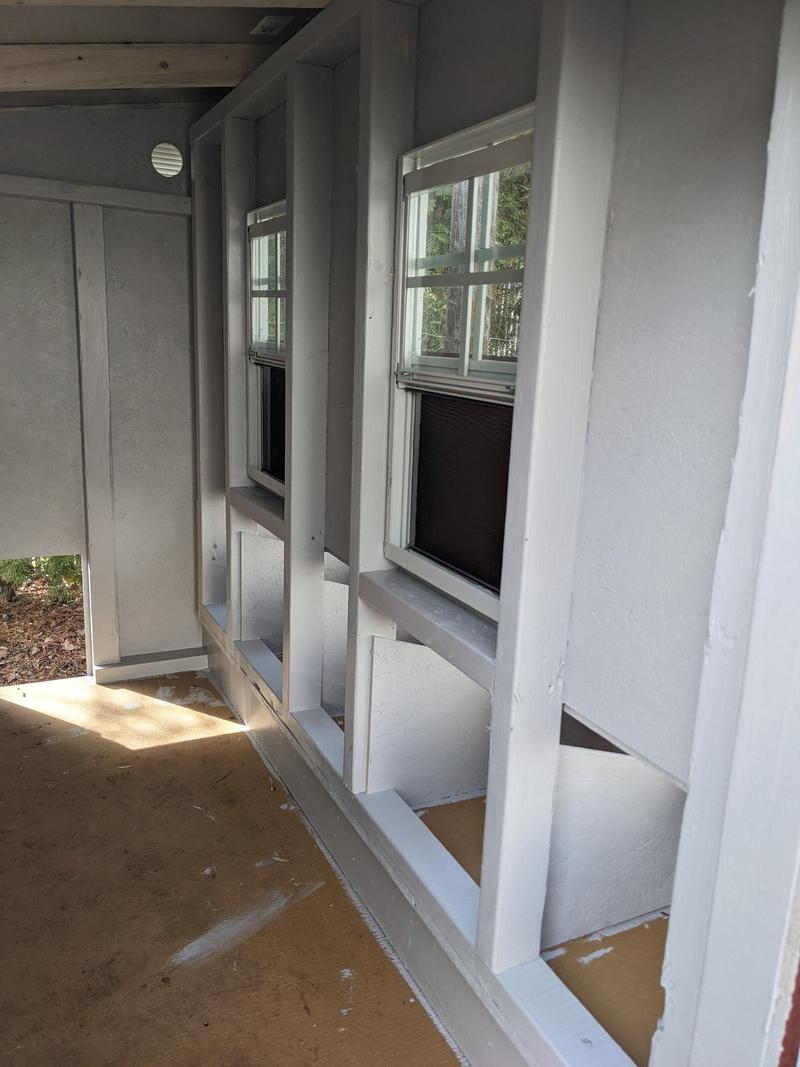 The next big addition to the coop is an automatic door, so we don't have to get up at 4 a.m. in the summer to let the chickens out. Randy's working on that now—stay tuned! The plan is to use a Raspberry Pi, so he'll be able to set it up to text us if the door doesn't close and add other sensors, such as a camera. Maybe we'll add livestock tracking code to keep a count of how many chickens are in the coop at any given time. And maybe an app, so we can control the door remotely.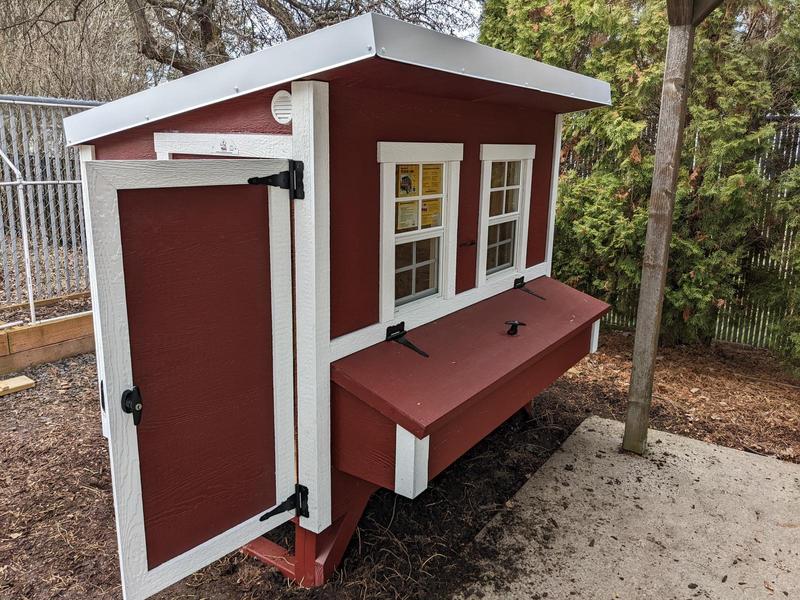 The run
After assembling the coop, we installed a fence around the run. Two sides are the existing chain link fences. The rest is poultry netting and u-posts, run from the fence through the trees and stapled to the sides of the coop.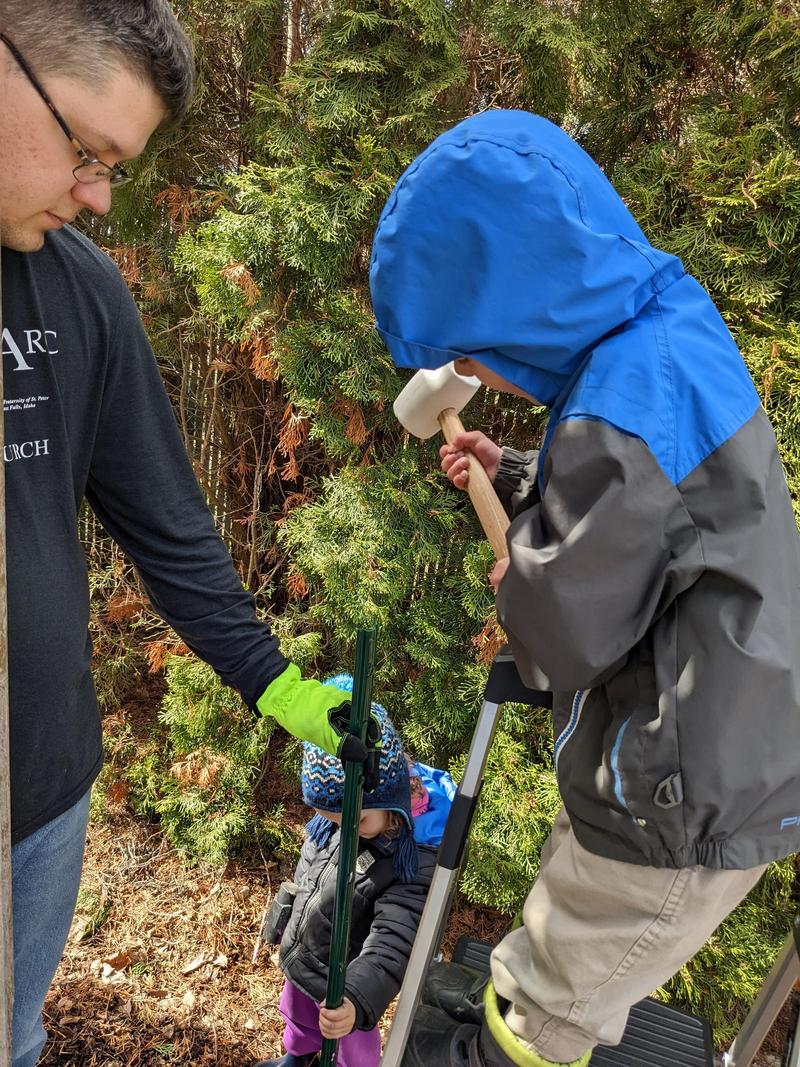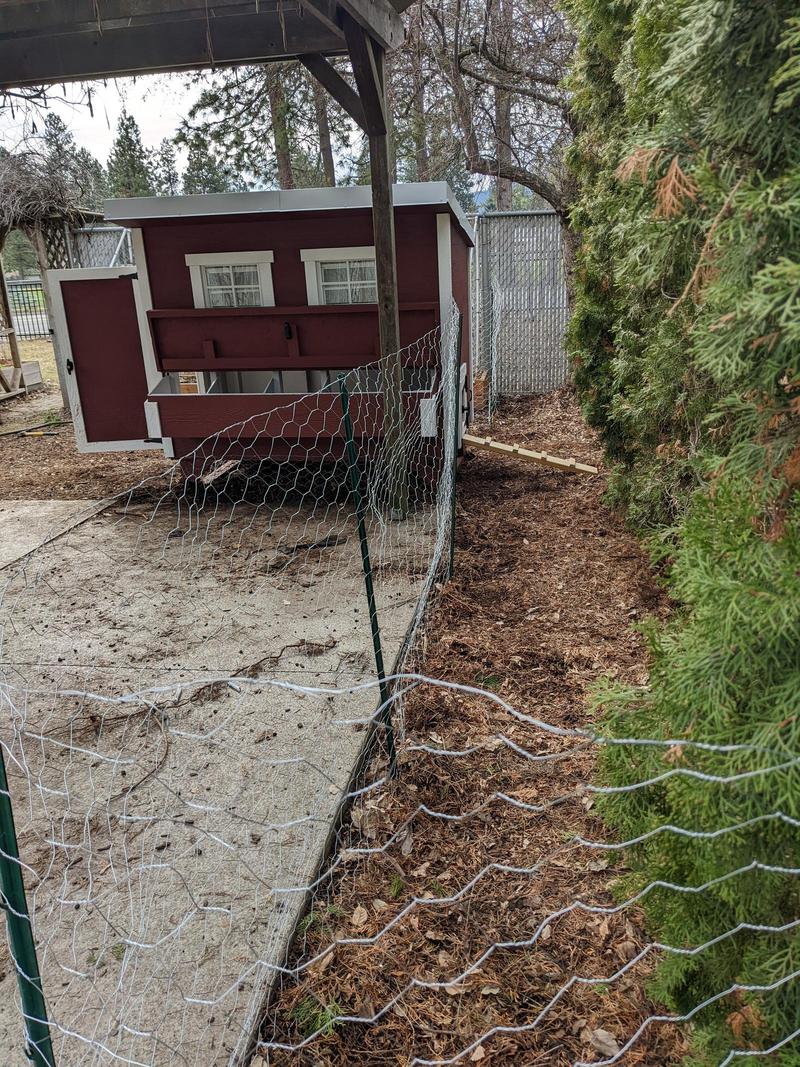 We built a little gate on one side of the coop by attaching the poultry netting to a dowel, which we can anchor into eyehooks at the foot of the coop to close it.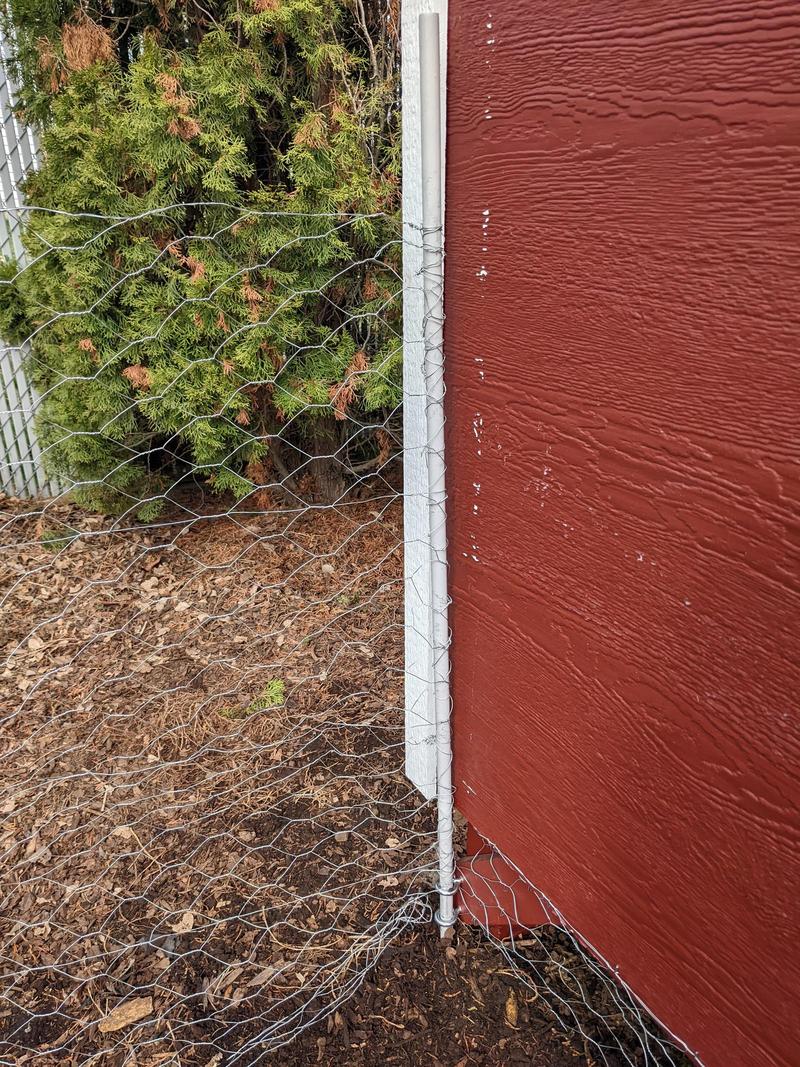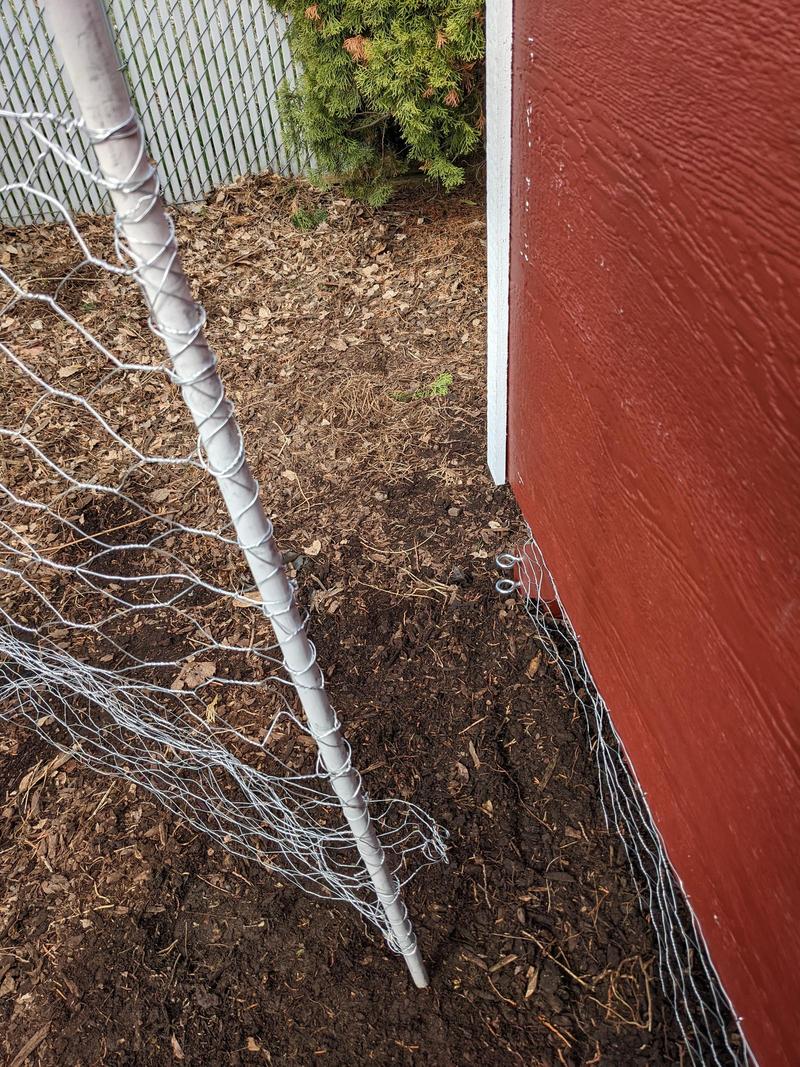 Under the coop, there is some dirt and mulch; we put poultry netting around the base to keep the chickens from escaping.
Food and water
Based on this advice, we got a 5 gallon bucket with horizontal nipples for water, since that will make it less likely to spill and get gross. We have a second 5 gallon bucket with PVC elbows for food; this setup helps keep the food contained, since they evidently like to toss their food around when they eat.
However, since we started with chicks (see below!), they're not big enough for these yet—we started off with the common cheaper plastic stuff.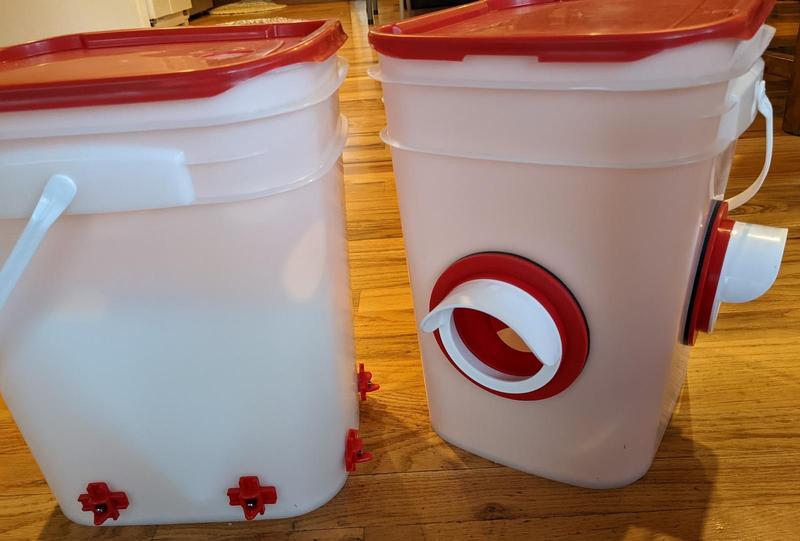 Chicken breeds
I researched chicken breeds. We decided it'd be fun to have a couple different varieties. Local friends have a mix—Plymouth Barred Rocks, Copper Marans, Orpingtons, Americanas, Anconas, Speckled Sussex, and others.
One big decision we had to make was did we get a couple day old chicks, or try to find older pullets? We liked the idea of getting older birds, simply because it would mean less equipment, easier startup, and shorter time to egg.
Ultimately, the decision was made for us. None of the local places had any chicks over a couple days old, because chicks are in very high demand this year. I guess we're not the only ones getting more involved in homesteading! We were told we may be able to find older birds via craigslist—but then we wouldn't have had any idea what condition the birds would be in.
We picked out three each of the following:
Cuckoo maran Plymouth barred rock Black star sex link Isa brown Wyandotte
That's 15 birds—our goal is to have about 10. There's a risk some will turn out to be roosters. The store told us 90-95% should be hens… And there's also the risk that some of the chicks won't make it. Apparently they're stressed out by everything. So we got a few more than we ultimately want. If for some reason all 15 survive and all turn out to be hens, we have a friend who could take a couple. Seems unlikely, though!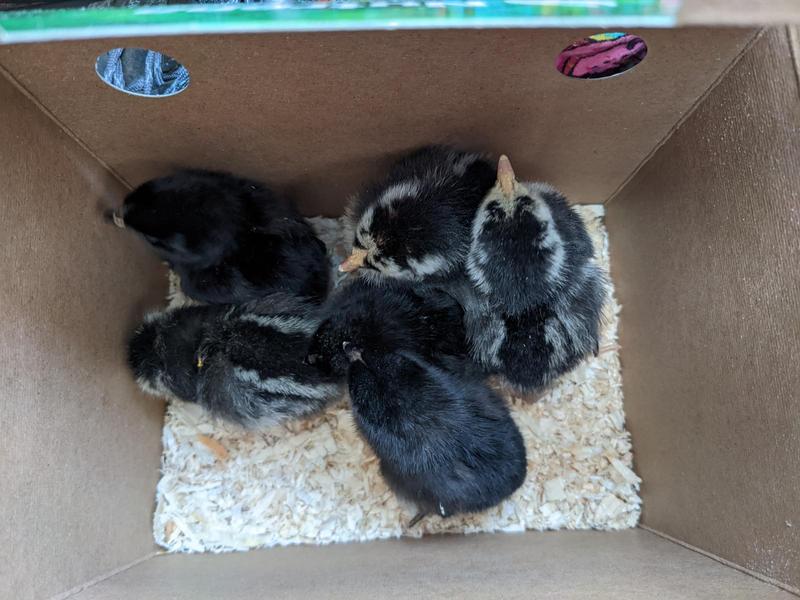 Raising chicks
We set up a cardboard box in the garage with a heat lamp for the chicks. On the bottom, we have pine shavings covered in a couple layers of paper towels. We put some hardware cloth over the top.
And now the kids spend a lot of time in the garage.
Now it's a waiting game. We'll upgrade the box to a larger box soon. We'll transition to the fancier waterer and feeder as soon as they're big enough and have enough space for the buckets. When they have their feathers, we'll be able to put them in the coop, and then let them start exploring the yard in their run. Exciting stuff!
And eventually, in about 6 months, we will get our own very fresh eggs!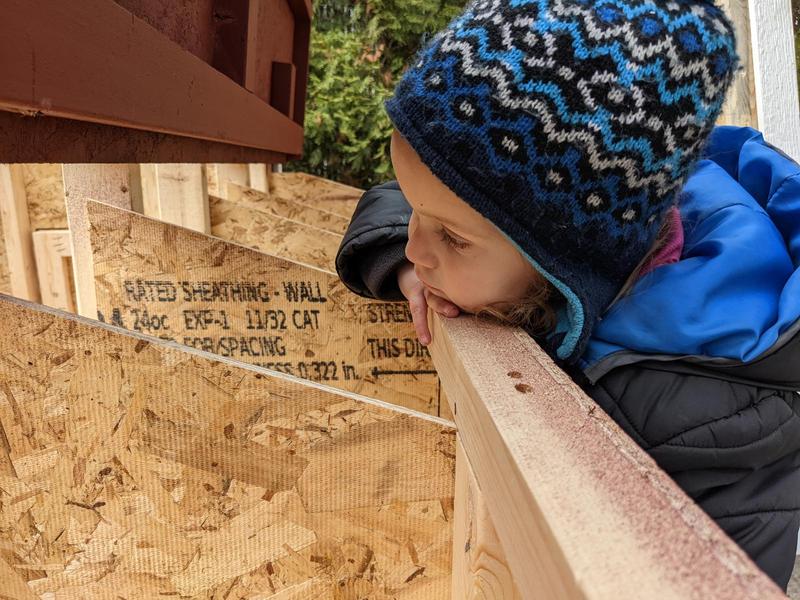 ---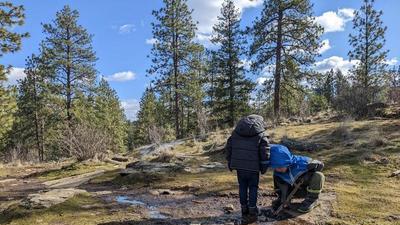 "How do you do it?" 5 Ways to be Patient, Calm, and Improve Your Relationship with Your Children
Do you feel your kids are stressing you out? Here are tried-and-true tips for building up calmness and cooperation.