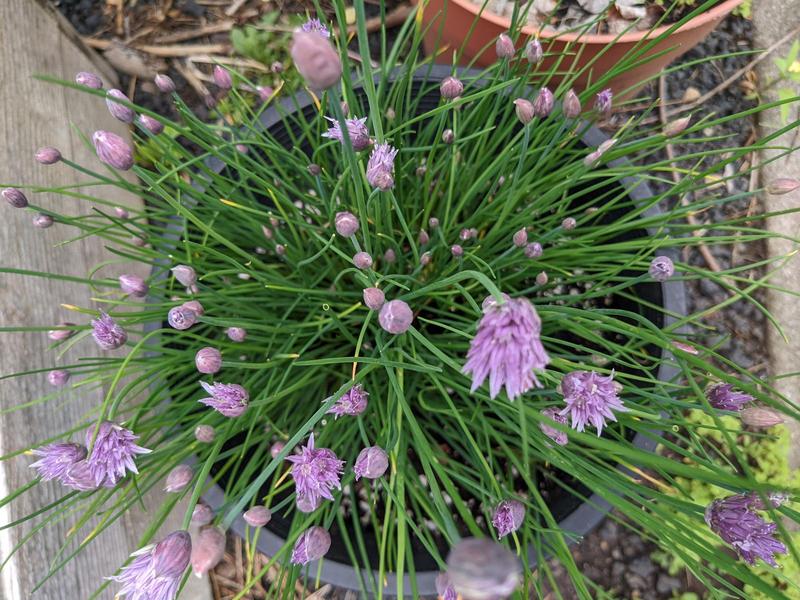 How I Planted My Suburban Yard Garden, How It Grew, and What I Learned (Gardening, Year 4!)
Plus, what's in progress for next year!
We had a long, cold spring. Our gardening season took off at a roaring snail's pace. I was worried we wouldn't have a good harvest as a result; our growing season is short even without the extra weeks of cool weather.
But fall stayed warm. Our first frost didn't chill the air until the first days of November—which made up for not being able to put plants in the ground until late May! (Compare that to our first year, when a frosty hail storm hit the last weekend in September!)
My plan included growing most of the same vegetables and herbs as in previous years. I intended to take better care of the plants—like going to war with the flea beetles on my tomatoes. I also had a long stretch of yard along the front fence available for planting, since I hadn't added any perennials there yet.
You can read about my gardening journey so far:
Vegetables
Let's start with the basics: vegetables!
My kale grew prolifically, with volunteer plants popping up all over the front yard—no doubt helped by the children who collected and dispersed seeds in last year's late summer. As the weather grew cooler, some powdery mildew set in on the shadier patches, but before that, I picked and washed and chopped kale for the freeze (6+ gallon bags). I dehydrated kale (which crumbles up nicely). I put kale in salads, smoothies, sauces, and quiche. And with all the kale we've preserved, I'll continue to cook with it over the winter!
That said, my kale may very well survive the winter. It has before. There's still more out in the yard. I should probably harvest another round before it snows.
The rhubarb loved the cool spring weather, and we harvested stalks so many times—nearly all of which we turned into jam!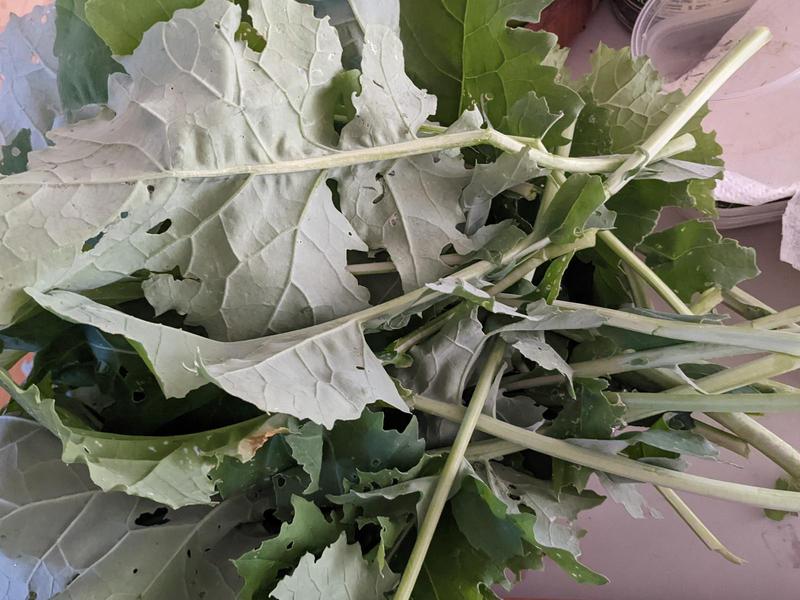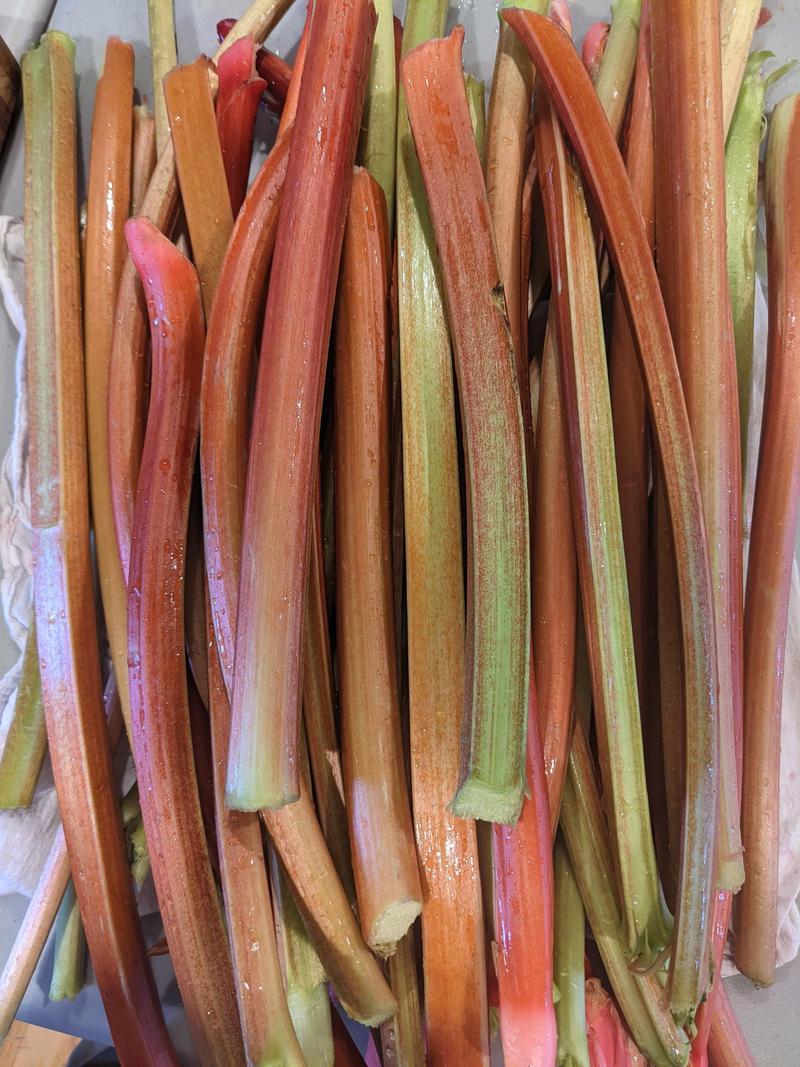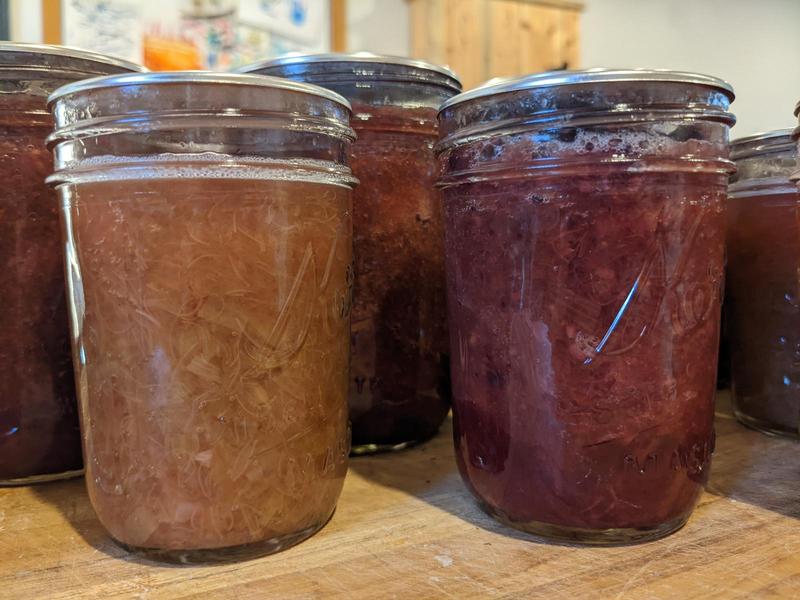 I grew bell peppers. The ones in my backyard garden bed were delicious. The plants in one of the front beds did not grow at all—either they didn't get enough sun, or enough water, or both… I put them in a spot where I'd successfully grown squash before.
Speaking of squash: I grew maybe two zucchini, total. Which was bizarre. Usually, a couple zucchini plants means we're in zucchini up to our ears. The plants flowered, but stayed on the small size, and only fruits a couple times. They were in the same location as previous years—one of the front garden beds—and we'd added compost. I heard from a couple local farmers and gardeners that they also had a weirdly un-bountiful squash year, so maybe it was the weather—cold spring, hot summer.
We grew a couple stalks of corn in the front, beside the squash—I was attempting the "three sisters" combination of squash, corn, and peas. We got a small ear or two off each stalk. The peas were fine… they withered in July, but came back when cooler weather returned. We also had volunteer wood sorrel, which was lovely, because it adds a nice lemony flavor to a pile of salad greens.
We planted a few onions and potatoes, some in front and some in back, including a few big purple Viking potatoes (solely because they were purple!). These are okay, somewhere small, but I feel like we have to grow at least a few potatoes every year, since we are in Idaho. Plus, the kids love digging them up!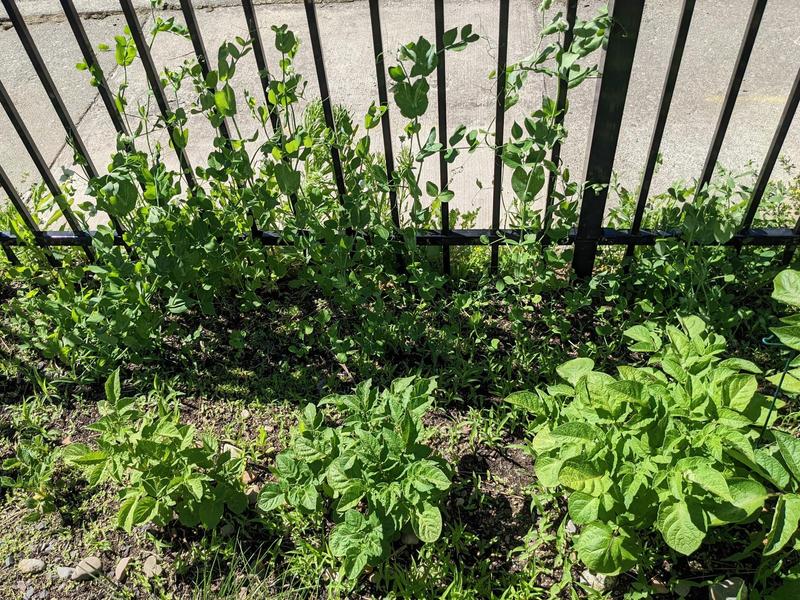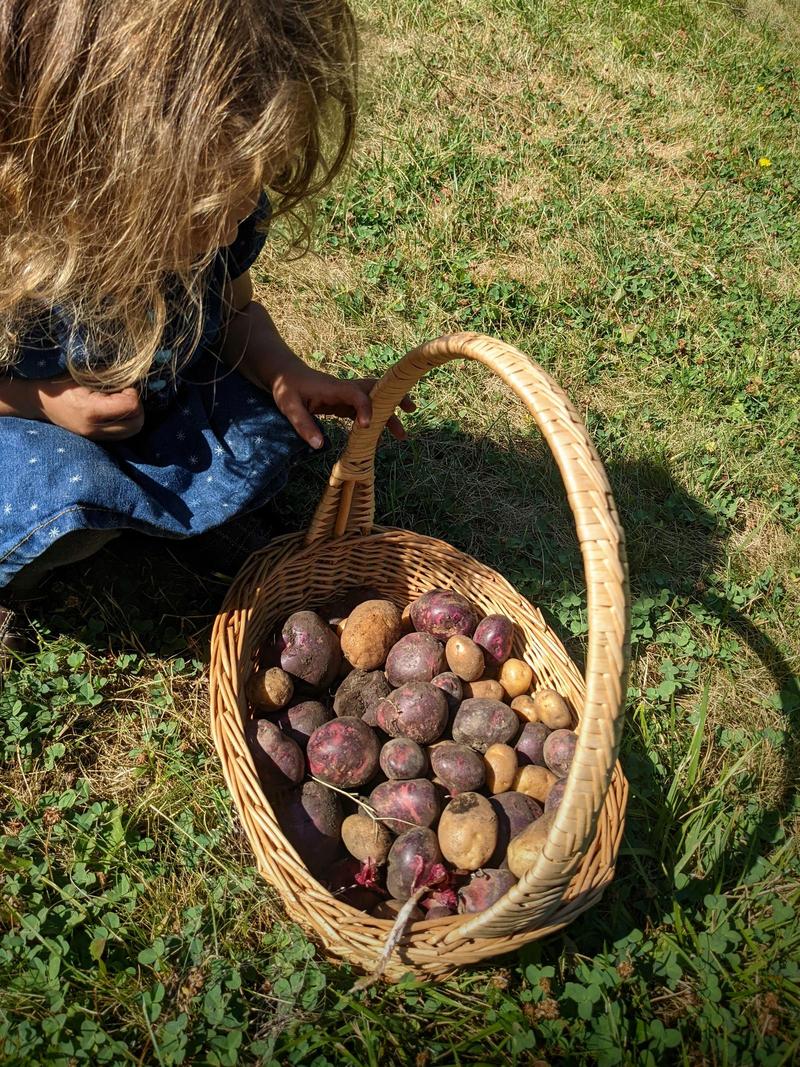 My tomatoes, though late, were delicious and wonderful and plentiful. Tomatoes were one of the main reasons I started gardening—they have so much more flavor that store-bought tomatoes! We grew more cherry tomatoes than last year, since my eldest son helped plant seeds by sprinkling them, quite generously, over the seed starting tray… but, unlike in previous years, it didn't seem like we had too many cherry tomatoes! I think this is because the kids are older—they quickly formed the habit of snacking whenever they were in the backyard.
My tomatoes had a flea beetle battle. I flung diatomaceous earth liberally and made a serious dent in the flea beetle population.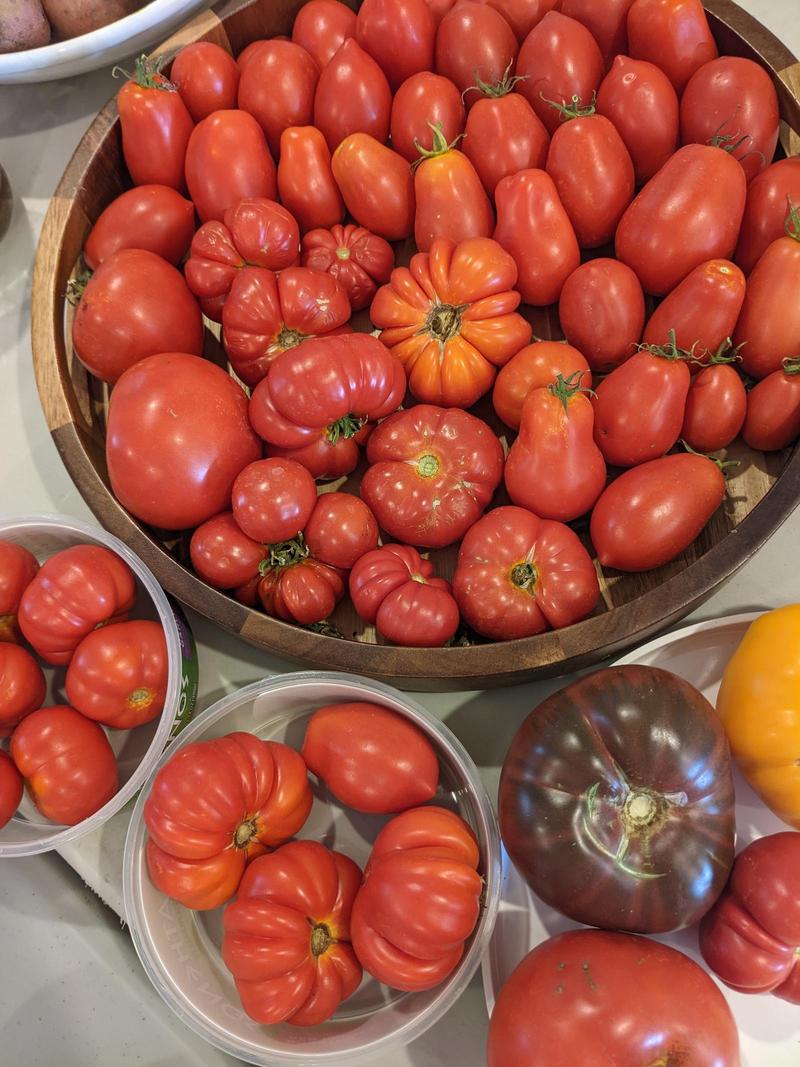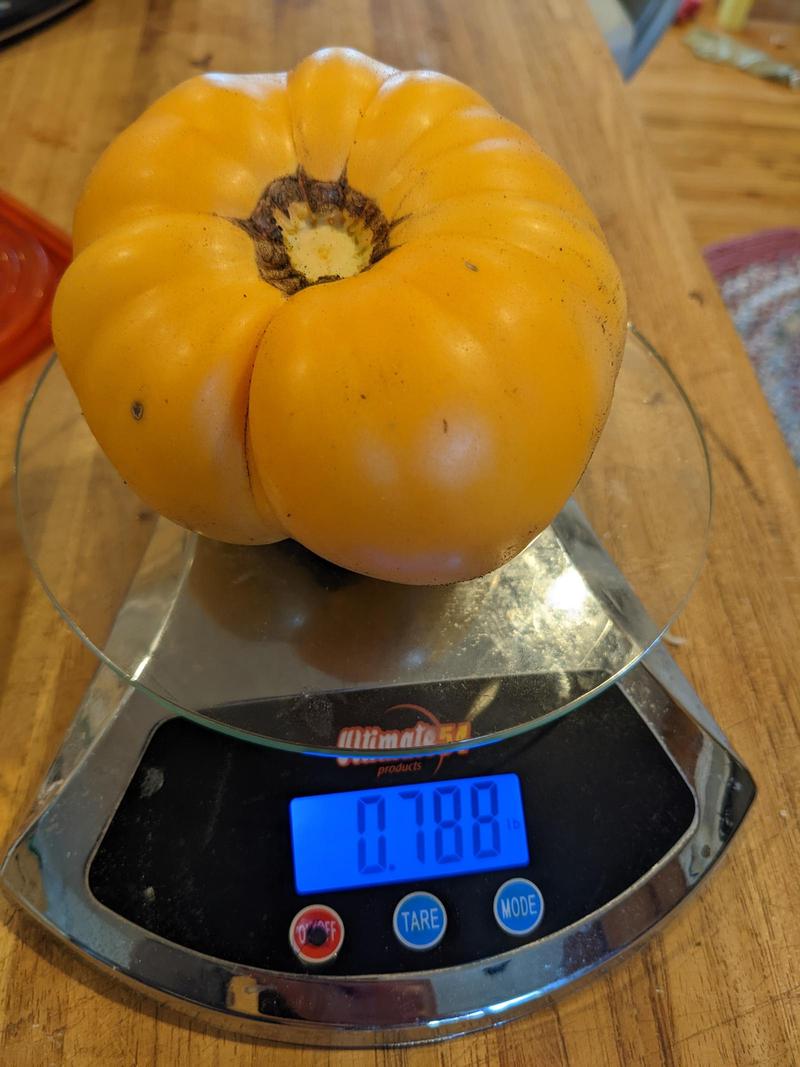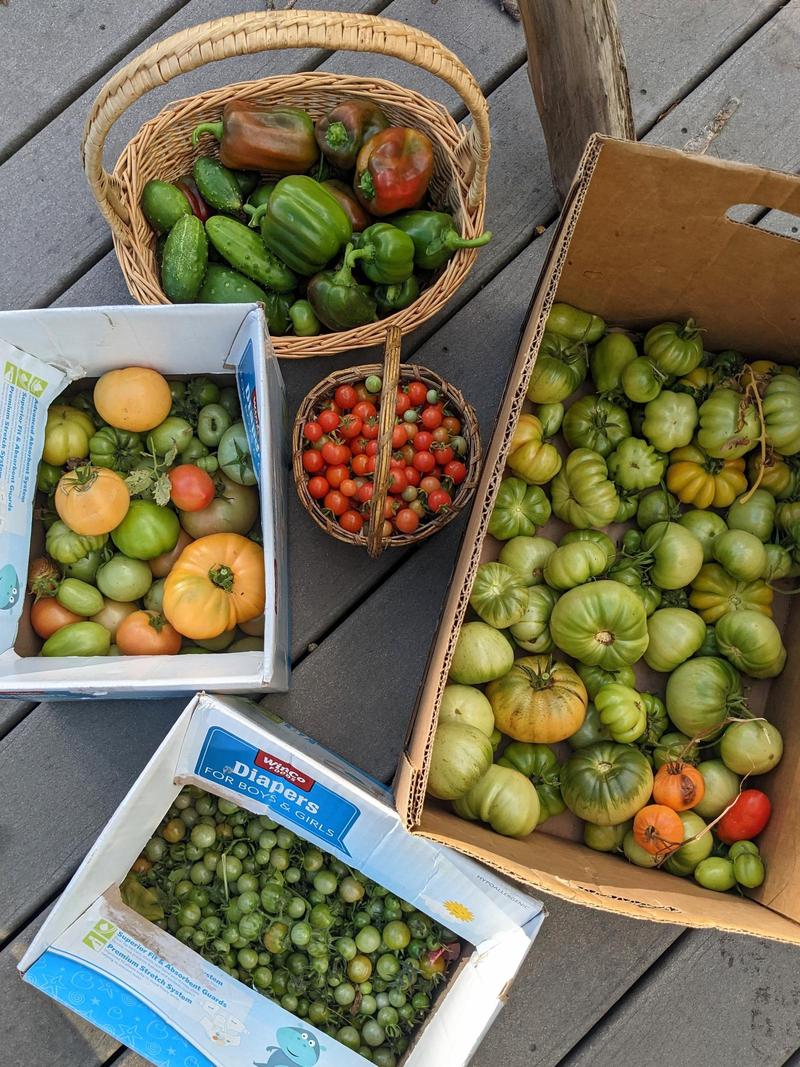 The cucumbers were slow to start because of the cool weather in spring, but once they got started, I managed a couple batches of pickles.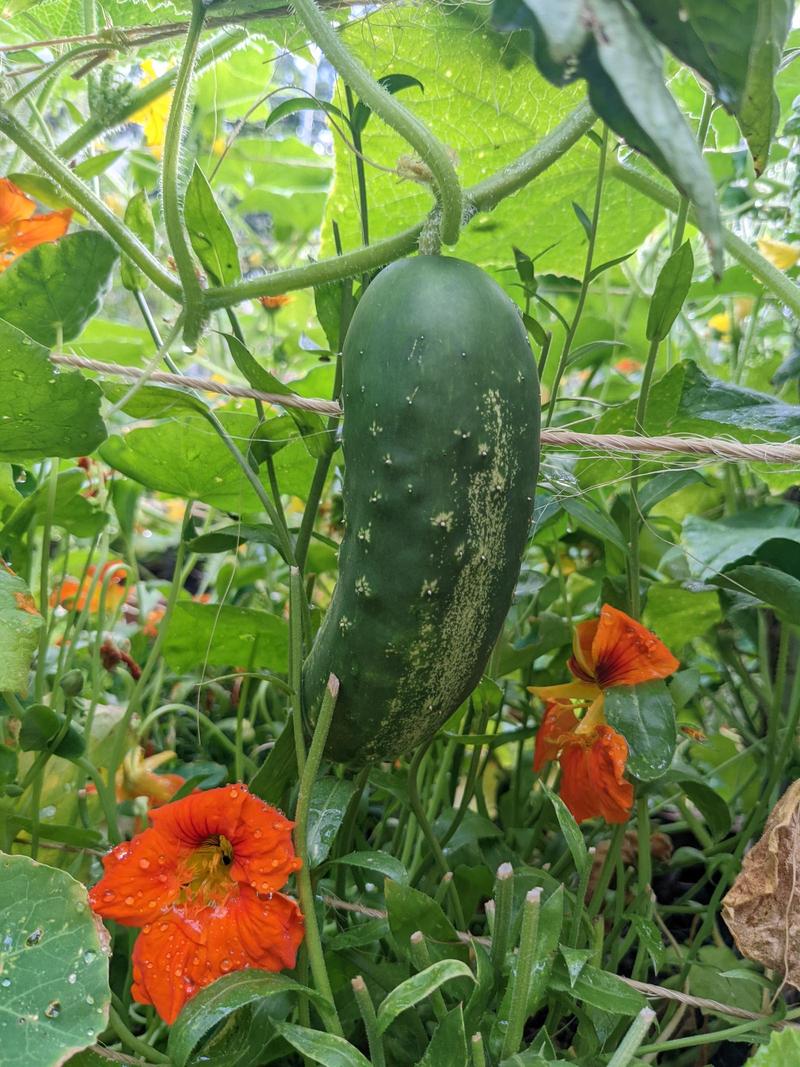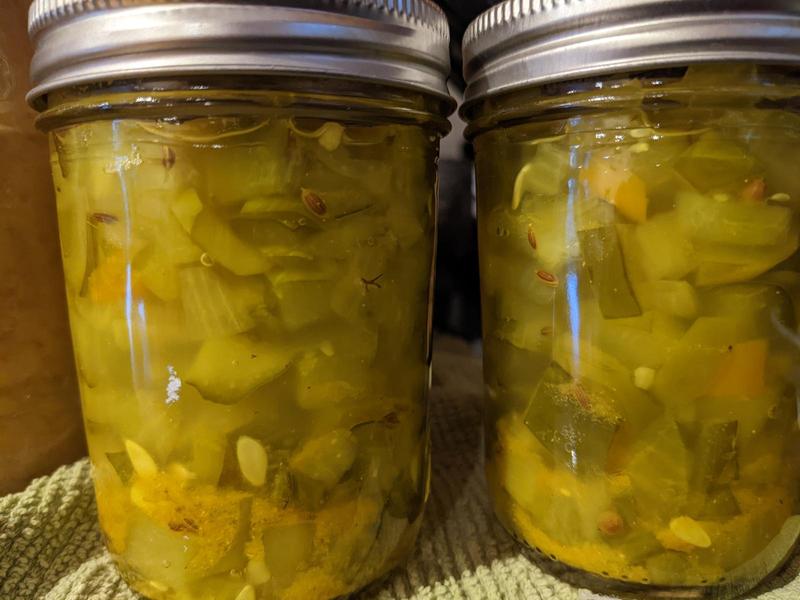 Fruit and berries
The weather delayed everything. Our raspberries were late—mid July!
Our four new liberty blueberry bushes out front produced some small, very sweet berries. One of the bushes looks half-dead, though—maybe it didn't transplant well? We have two bushes in back; the Bluecrop produced berries that didn't ripen well, and the Patriot bush isn't doing so hot. All this means I have some blueberry todos: First, prune all the bushes in late winter. Then, properly check and adjust the acidity of the soil instead of simply tossing some soil acidifier out once in a while and hoping it works.
We have a green gage plum in our backyard. Since we had a good crop last year, but not the year before, I was wondering whether it was on a biennial cycle. I was expecting this year's crop to be small. But to my surprise, we filled five buckets with plums! It came out to about 20 lbs of fruit. This was about as much as last year (though I forgot to weigh them last year). They were late—early October—which wasn't a surprise.
In addition, I harvested some crabapples off the crabapple tree, and Oregon grape berries from the bush by our fence, and made jellies out of both of these.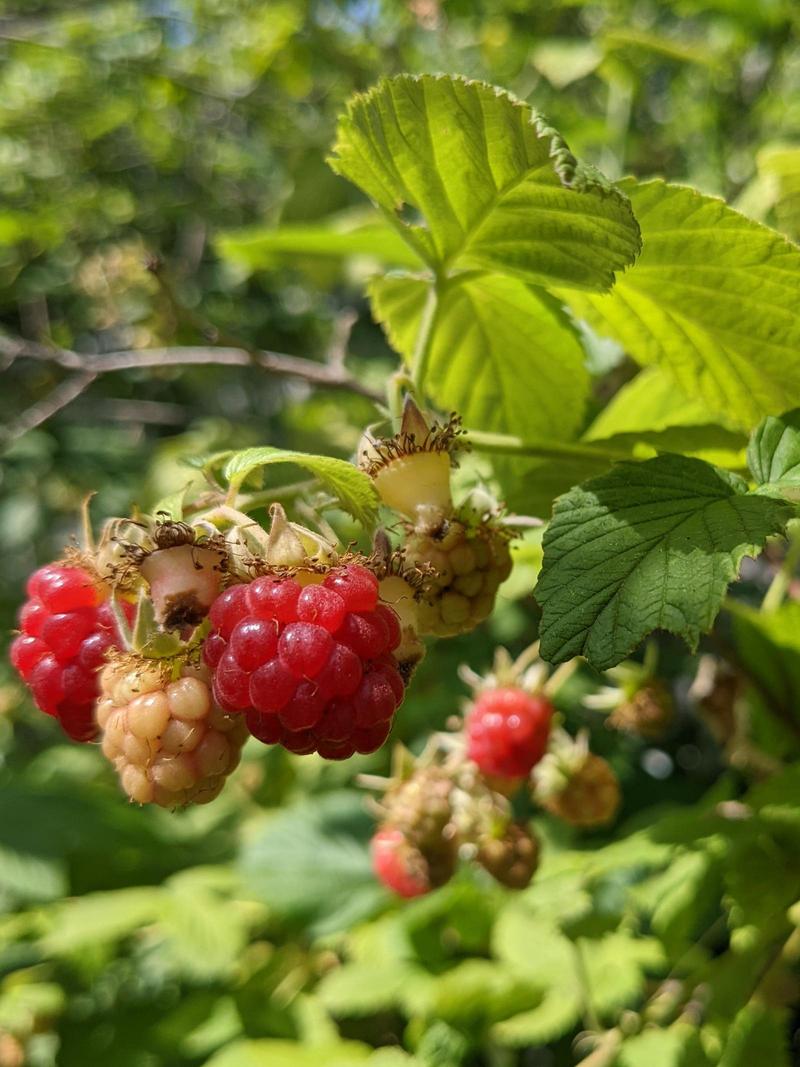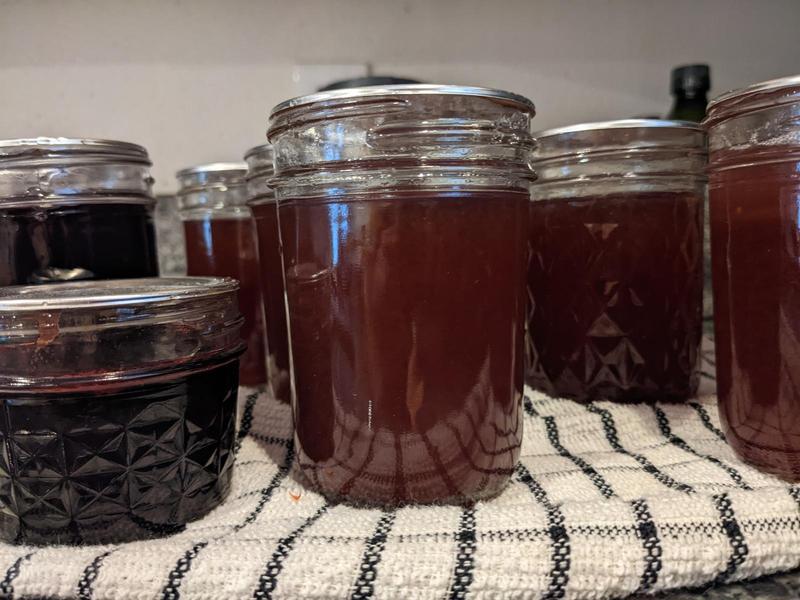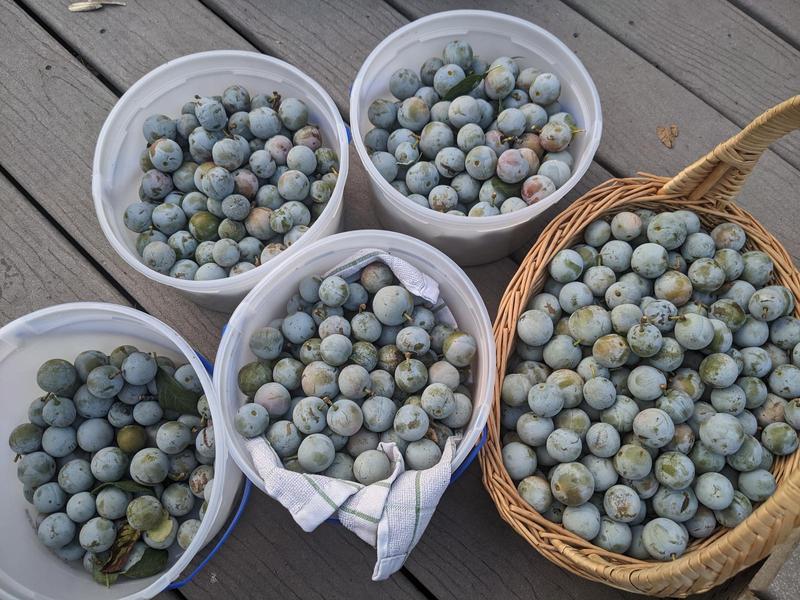 The Front Fence
The new section along the front fence was, initially, just an overflow area. I tend to start more plants than I know I'll need, in case some don't survive or a friend asks after extra plants. This year, all the extras went in the ground along the fence.
This section of ground had two problems: It wasn't the healthiest of soil, despite an application of compost last fall, and it is the hottest, driest part of the yard. As a result, the plants here did not grow as well as their counterparts elsewhere in the garden. The tomatoes were a prime example: by the end of summer, they were half the size of the tomatoes in the back beds; the amount of sun, the soil drying out fast, the poorer quality soil all contributed.
I had planted peas along the fence, hoping to grow a green wall. They started off okay, but when it got hot in July, they dried out and stopped producing. I even planted a second round, but the heat this summer—and lack of sprinkler cover—wasn't conducive to a strong pea crop.
My 5-year-old had planted a pumpkin; it flowered a few times, but stayed small and never fruited. Just like my other squash this year.
The best thing along the fence, however, was the section of perennial flowers we added in the spring, on the edge by the driveway and front door, beside our stone bench. Lavender (which I'd started the previous year and kept in containers), daylilies, phlox, coconut surprise, orange and red blanket flowers… The speedwells kept wilting; one of the phlox kept drying out, but it's still alive, so we'll see how it does in the spring.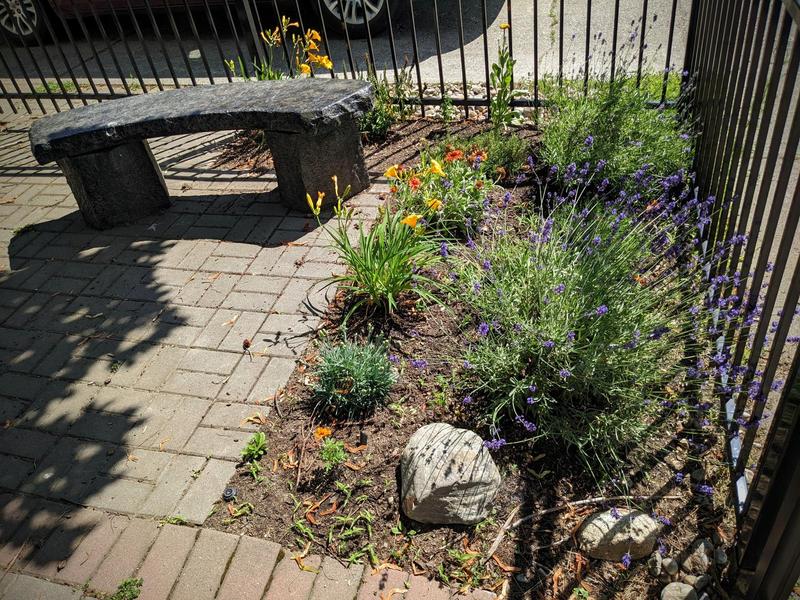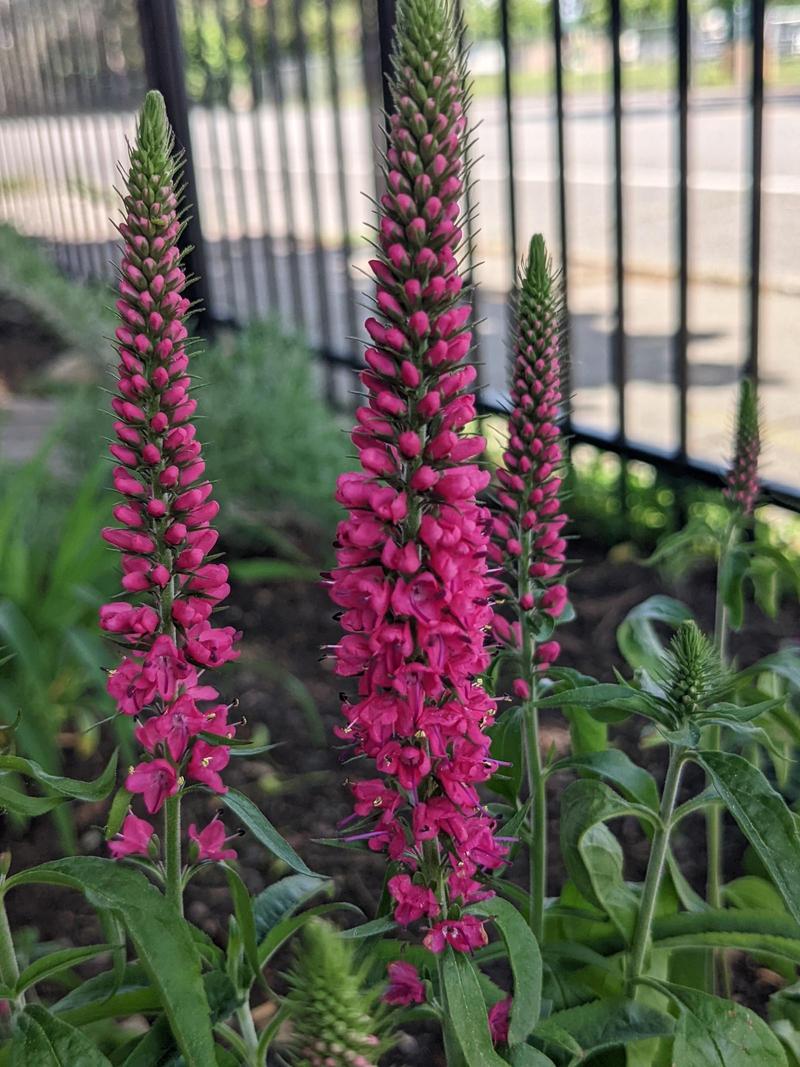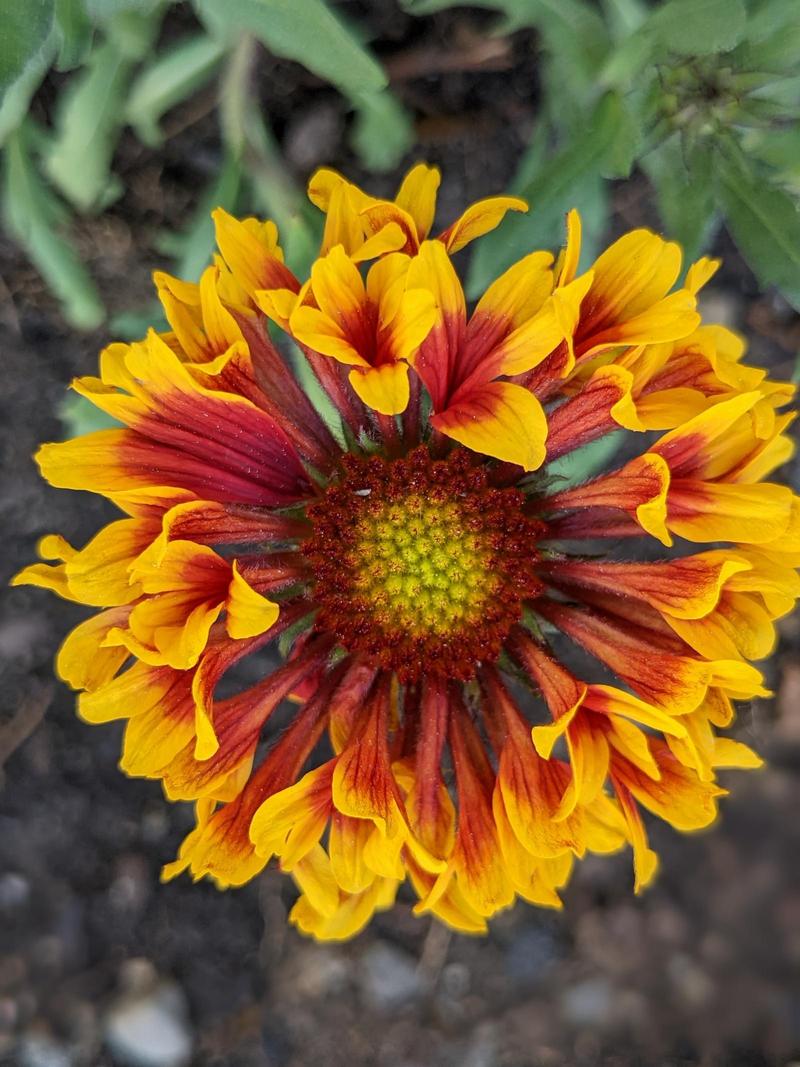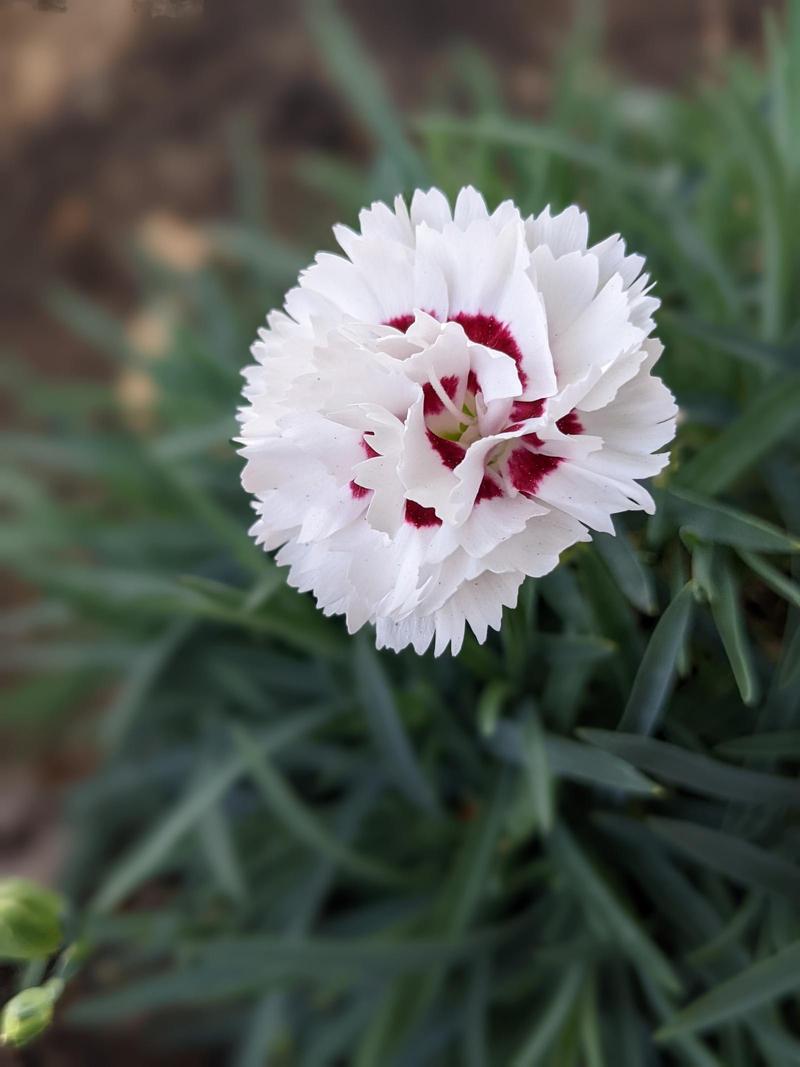 Because these flowers were so nice, I realized: I need a flower garden!
To get my flower garden, I needed to do two key things: first, I need to work on improving the soil, such as adding compost each year, mulching with fallen leaves that can overwinter and decompose into the soil, mulching with wood chips in the spring.
Second, I needed to plant more flowers, especially drought tolerant flowers along the sunny, dry section. So, this fall, I began adding flowers: early season bulbs, perennials, flowering herbs.
I counted the fence panels (there are 10) and the spaces between uprights in each panel (20 spaces, each a few inches long). Bulb spacing varies, but on average is 4-5 inches; so I assumed I'd need at least one bulb in each space at a bare minimum, ideally at least two, one on each side of the fence. Which meant I needed at least 200 bulbs.
I bought nearly 300 assorted bulbs from a local nursery: early season tulips, late season tulips, daffodils, alliums, crocuses, grape hyacinths, dwarf irises. I dug what was, essentially, a trench along the length of the fence, pulling out weeds and rocks as I went. We have very rocky soil. I carted buckets of small rocks to another part of the yard and made a pile. Then I planted all the bulbs, some closer to the sidewalk on the outside edge of the fence, and the rest along the inside edge.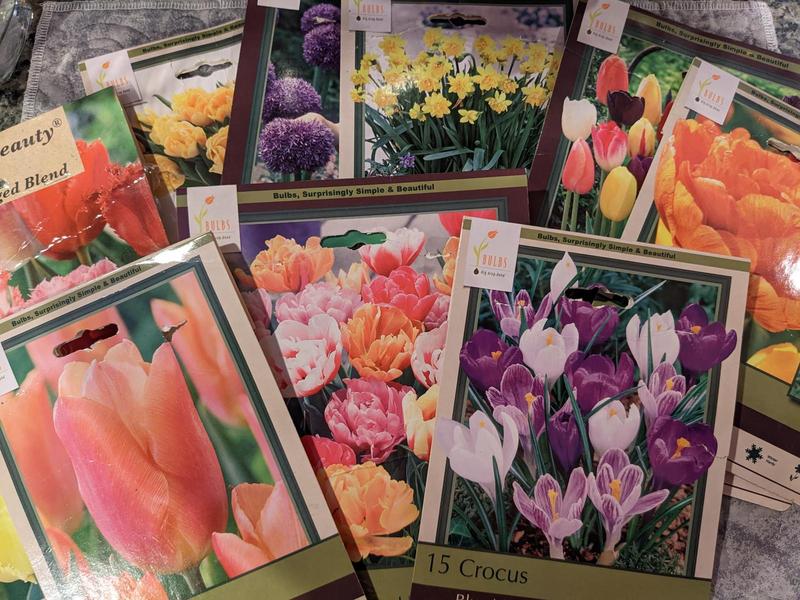 I cannot wait to see what it looks like in the spring! My biggest question is whether I planted enough bulbs, or whether I'll need to add more next fall!
Then, a local nursery had a fall sale on perennials. I picked up $200 worth of 75% off flowers and herbs—around 50 plants. They included: phlox, speedwells, dianthus, little leos, coral bells, anise hyssop, blue flax, daylily, hostas, savory, thyme, catmint, balloon flowers, lychnis…
I planted almost all of them in the front yard along the fence—a few hostas in Coral bells went in shady spots elsewhere in the yard. But there is still a lot of empty space that will need to be filled in before it is a fully decked out flower garden.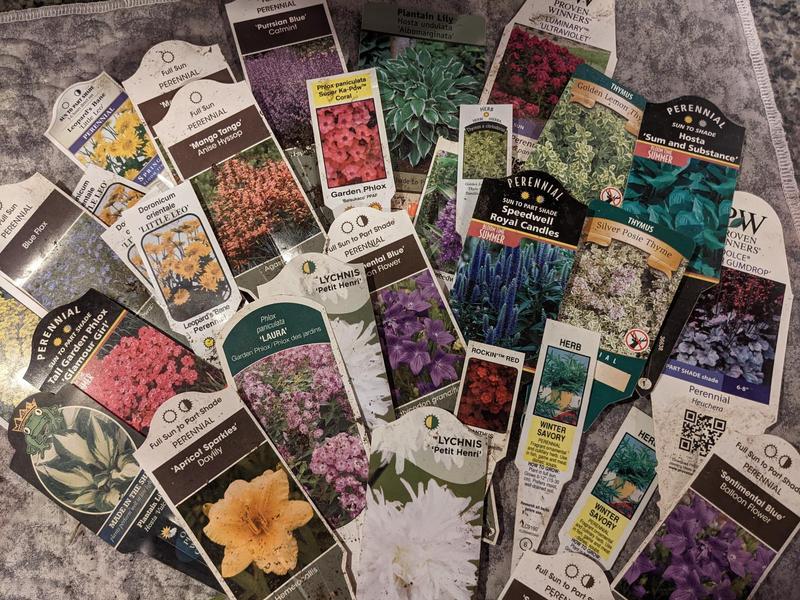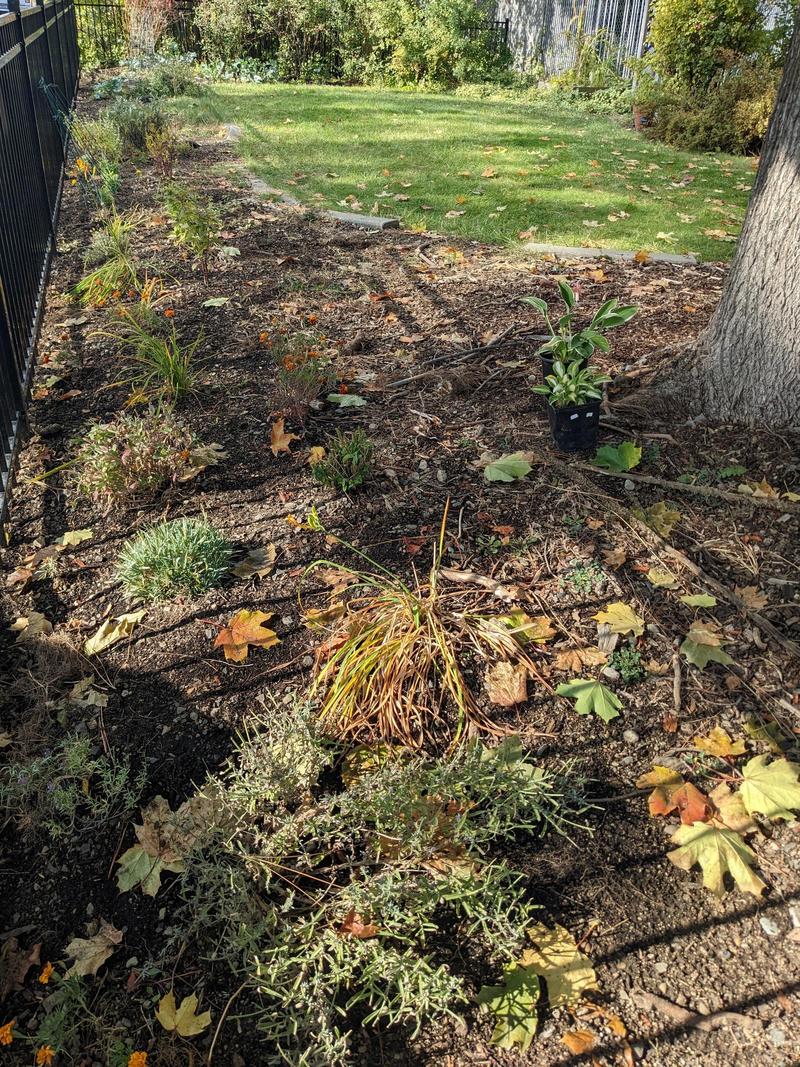 Among the perennials at the local nursery, I found a wonderfully aromatic pineapple sage. Unfortunately, it turns out it's only a perennial in zones 8-10, so it's going to join my inside plants. I recently bought two trees for inside—a bay laurel and a Calamondin; there's a south-facing sunny spot near the front door that's perfect.
The flower garden is the most exciting yard project right now. The front yard will be so pretty! Right now, It's hard to remember just how long winter can be. We still have yellow maple leaves carpeting the front yard. But we've had our first snow; the air is cold; we're well on our way to months of clouds and snow. Next March, or April, when the crocuses peep up and the tulips raise their heads, we will be so happy to welcome their little green growing leaves! I loved seeing the bulbs in neighbors' yards during our walks last spring. I hope our yard will bring someone else similar joy!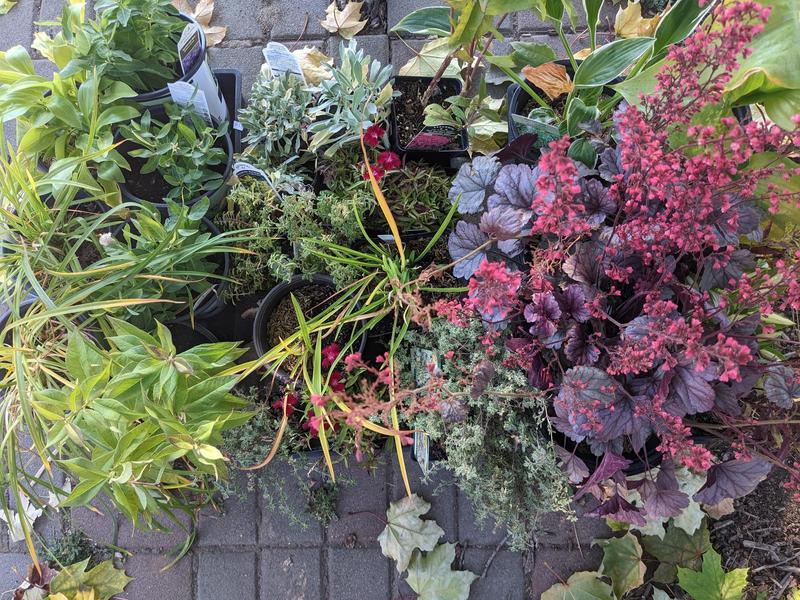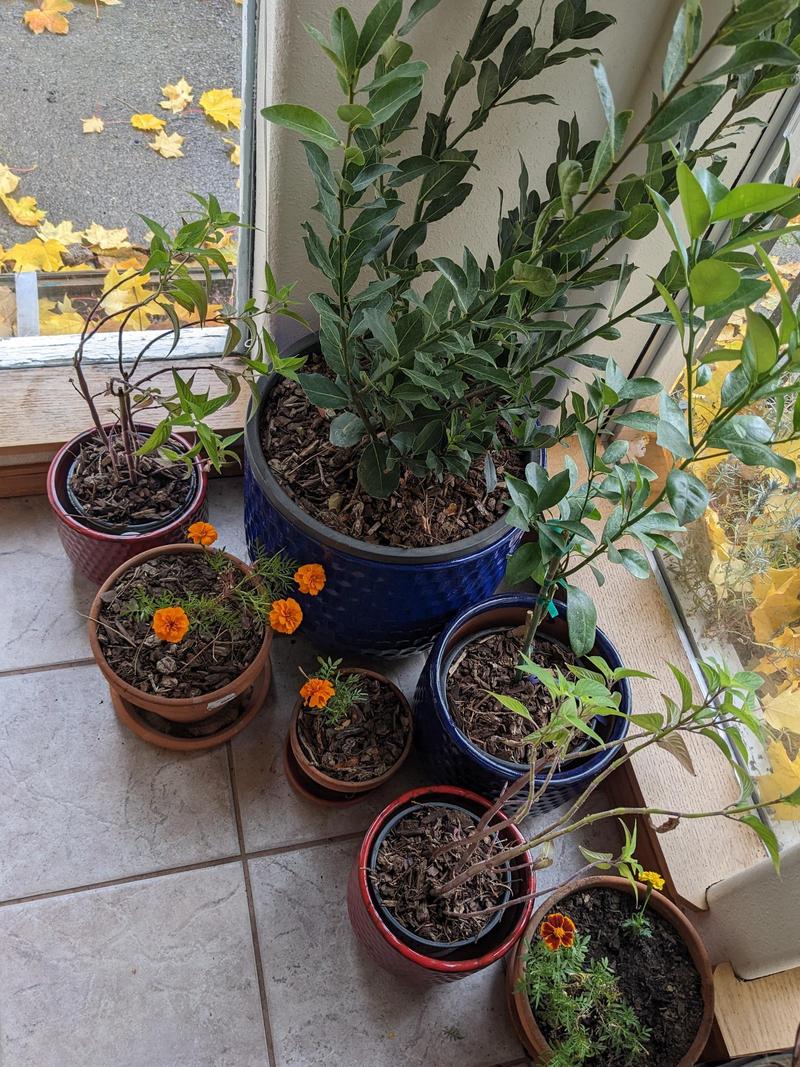 All the other flowers
My marigolds, calendula, nasturtiums, columbine, and snapdragons in the back garden beds all grew lovely, cheerful flowers. None in the front grew nearly as well—like I said above, something about the soil, water and sun conditions just didn't work as well.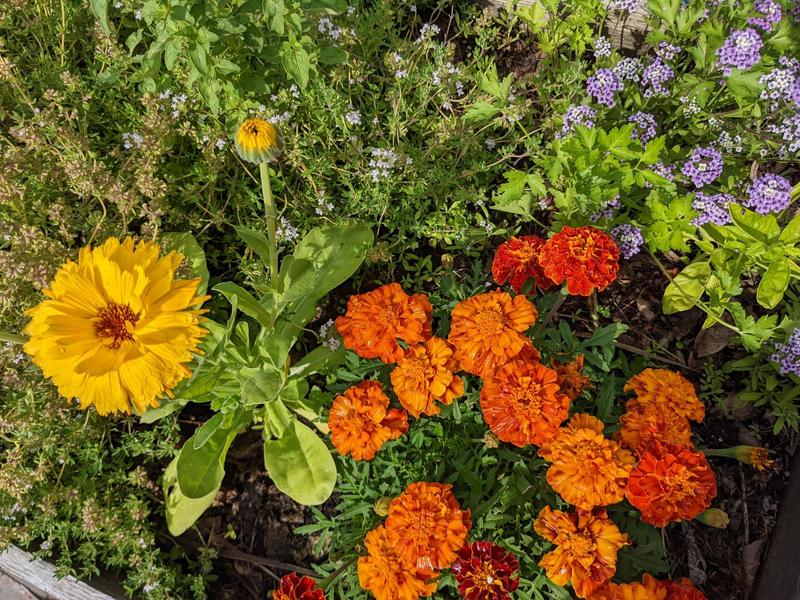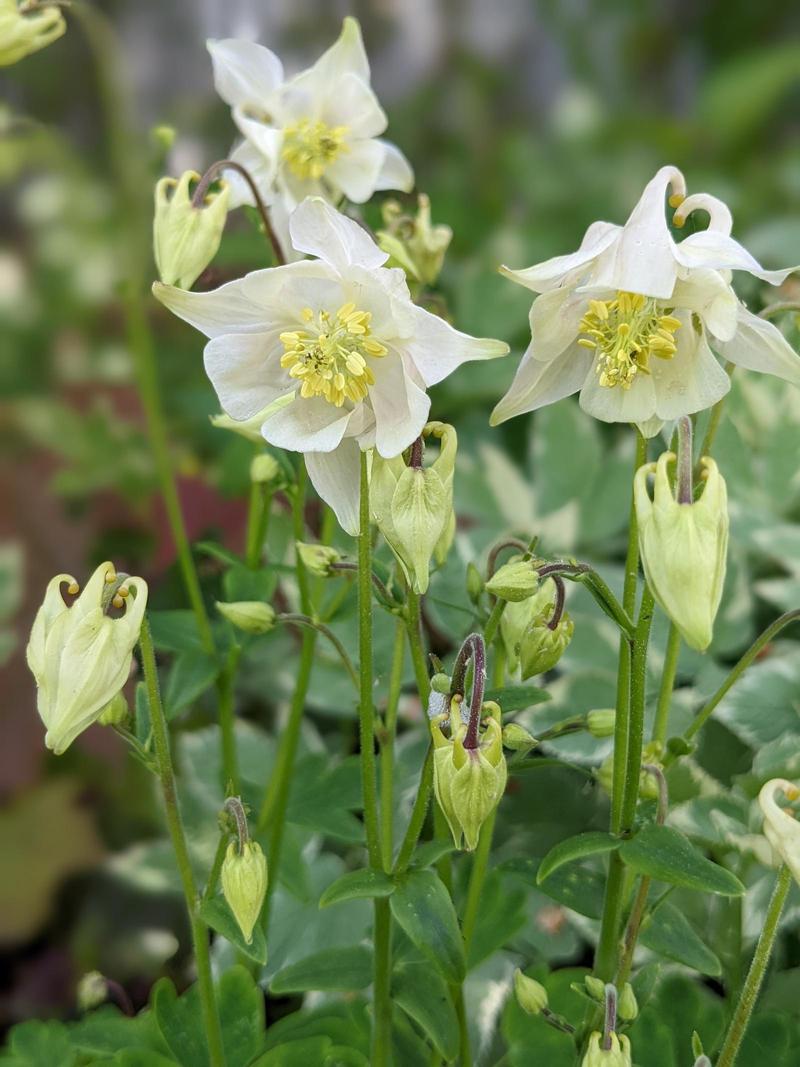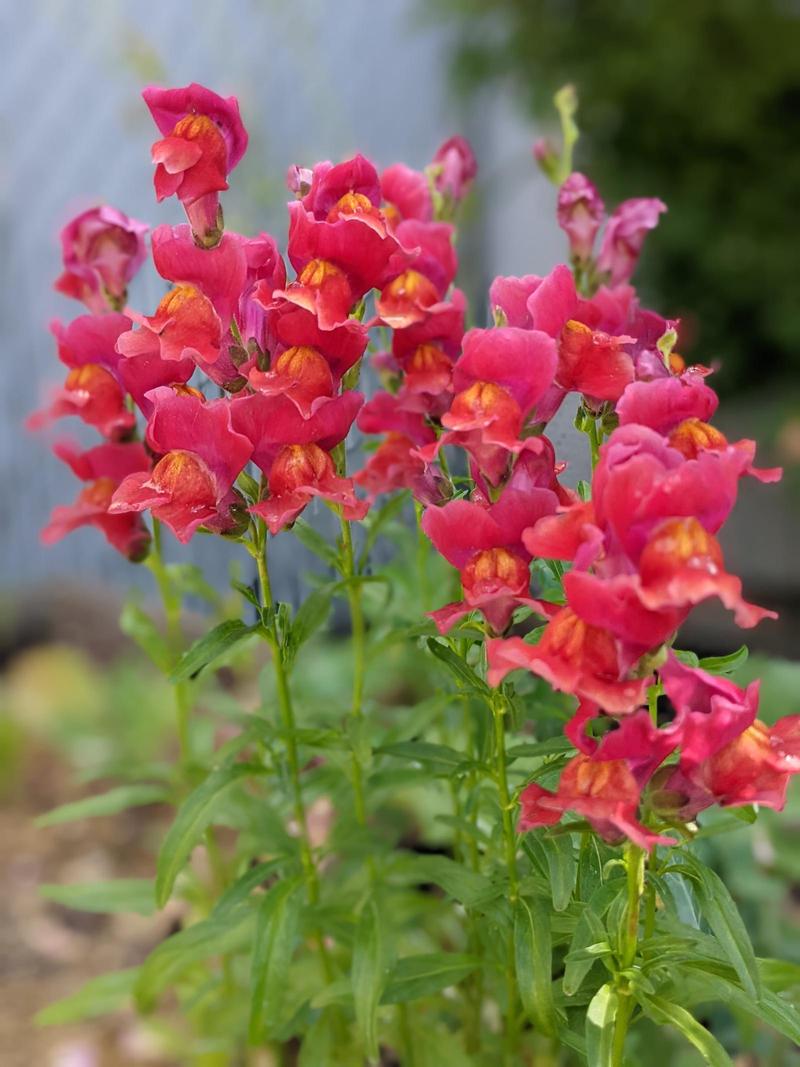 I'd read that you can eat nasturtiums, all parts of them, and that they are somewhat peppery in flavor, so I was excited about that (since the alyssum was a tasty, purple addition to salads last year)—but it turns out they are more horseradishy than peppery, which is not my favorite flavor, so I didn't use them in salads after all.
I actually remembered to deadhead flowers this year, which aided in continuous flower production. I need to do better at pruning the perennial flowers, however—which will be a winter project! My rosebushes, in particular, have grown unwieldy; one is the drooling sort that would benefit from a trellis.
Finally, I bought a hanging flower basket for the front by the door, and it was lovely. Brightened up the entranceway; added color. I'm going to do the same thing next year! Now that it's cold, I've brought the basket inside. It's hanging in my interior entranceway, and I'm hoping I can get another month or two of flowers out of it!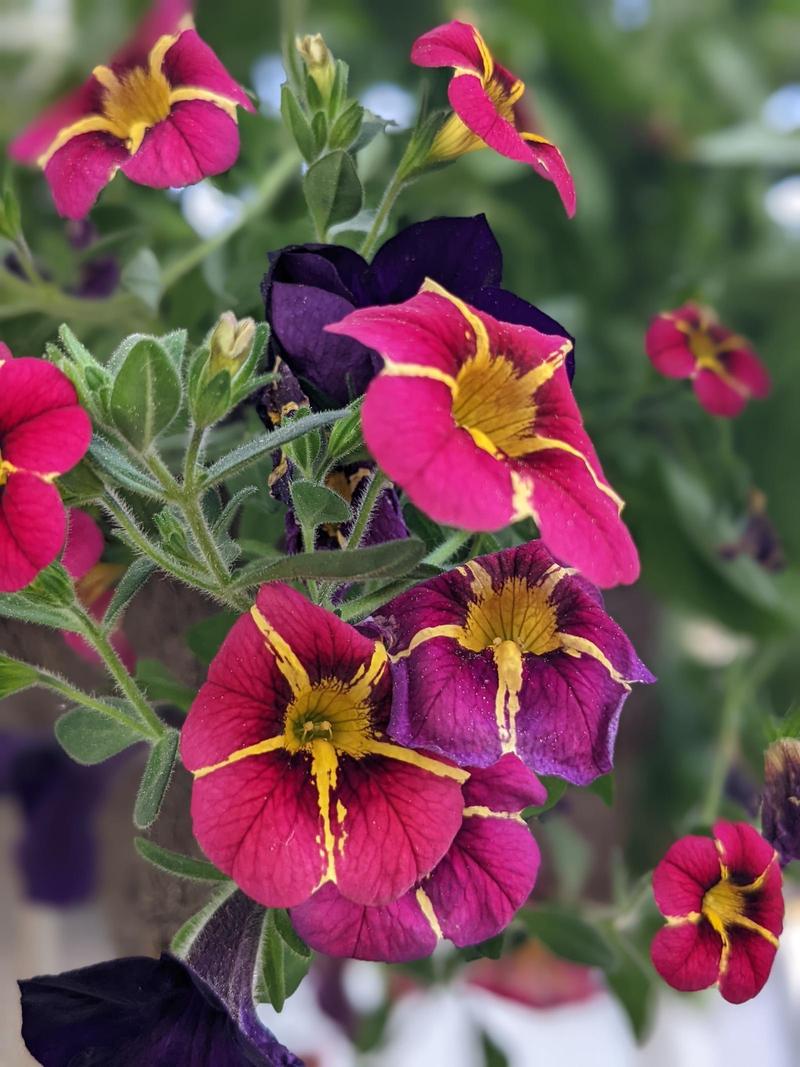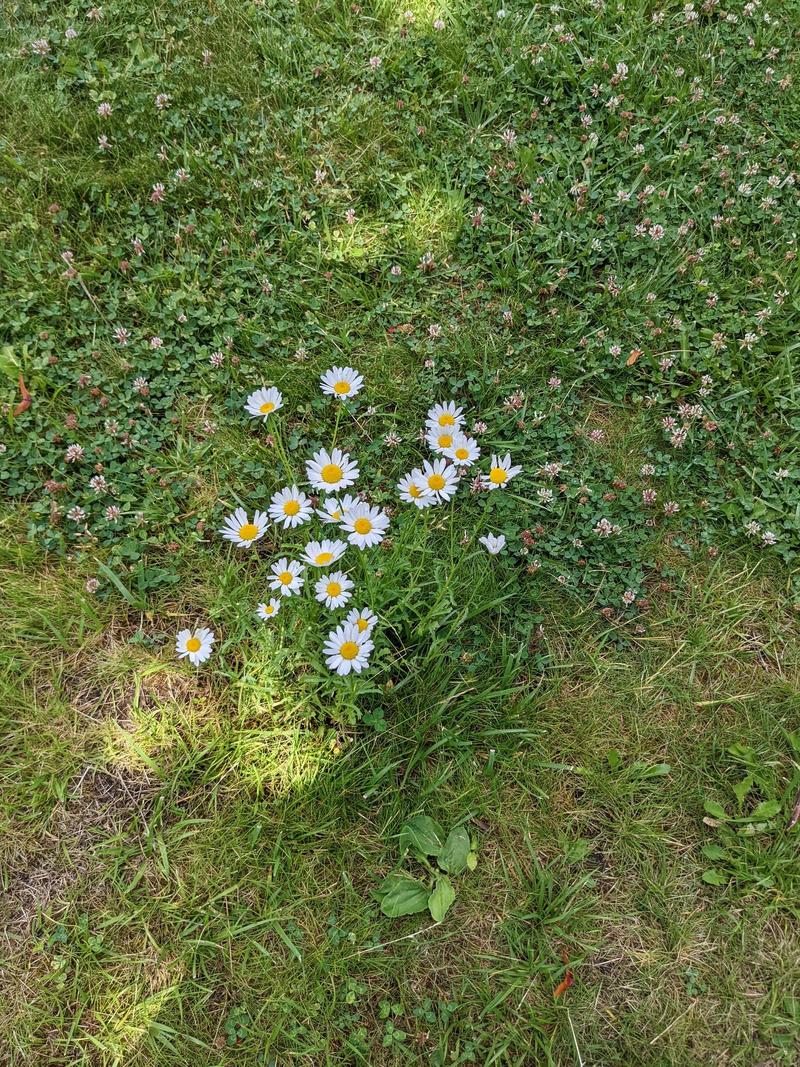 Herbs and Tea
I harvested my primary tea plants—peppermint , lemon balm, chamomile—early in the summer and did more rounds later. I have some in containers and some out front; they grow fantastically. My chamomile reseeded itself nicely, popping up all over the front yard. I moved some of the sprouts into the front window box, along with a lavender, some marigolds, and snapdragons.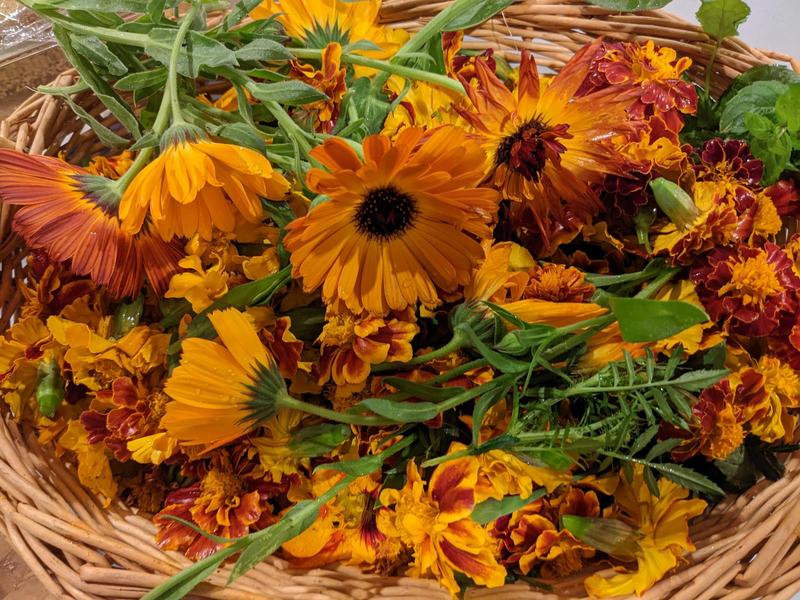 In the garden, I had one volunteer cilantro and a couple leafy parsley plants. My basil grew fine in the back by the tomatoes; the ones out front stayed smaller and bolted sooner. The problem I have with basil is that it's always leafy and smells wonderful a month or more before my tomatoes. I love a good basil tomato and cheese salad, or sandwich.
My perennial herbs are chives, sage, thyme, and oregano. The sage bushes are doing great; I transplanted one that had been in a container into the ground along the front fence, since it has such nice purple flowers. It's happy there. I have two more in containers that I think I may move out front, too.
I didn't quite grow all the ingredients for my own Italian seasoning this year—but I came close! I forgot to start rosemary (it's an annual in my zone), and didn't have any savory seeds. But I've got the rest, and need to mix up a batch. We've enjoyed our mix from previous years.
And I have savory now—I added two little plants along the front fence. Next year, I can grow everything!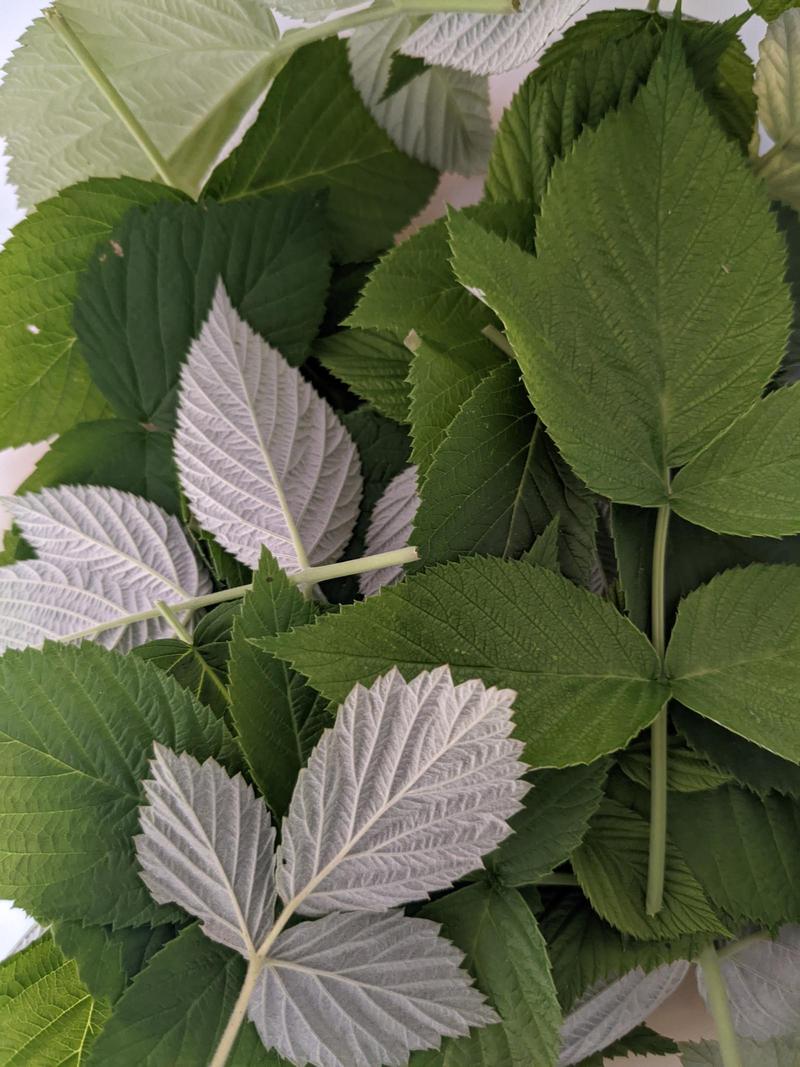 Shady bed under the crabapple
I have one 12x2" bed in the backyard that happens to be mostly under a crabapple tree. I've been trying to grow various greens in it each year. The sage is nice and bushy; lettuce and kale has grown okay sometimes, but grown better elsewhere in the yard; nothing else has done well (except weeds, hah). I think it's too shady.
So I decided to give up on using it as a vegetable bed. I left the sage, pulled all the weeds, and put in coral bells and hostas—both of which should be fine in a partly shaded location.
However, it is still partly a vegetable bed… because did you know you can eat hosta leaves? It's like perennial lettuce! (I was reading a book about perennial vegetables recently—so many interesting and unusual plants!)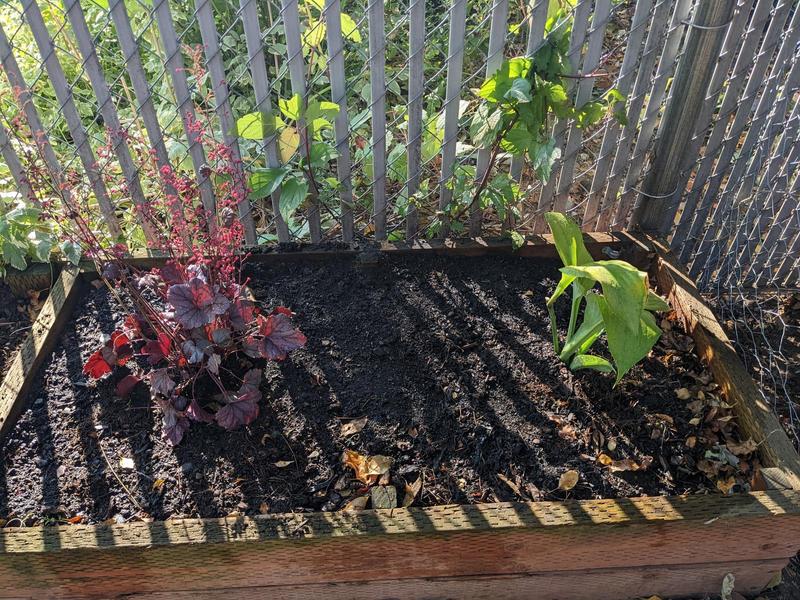 What did our chickens think of the garden?
The chickens enjoyed the weeds we tossed into their run. There were plenty to give them! We're working on a chicken-stirred compost pile in the corner of their run, so they get plenty of table scraps, too.
However, we have one hen who is a perpetual escapee, a Black Star the kids have dubbed Daisy (named after an adventuring hen in a Jan Brett book). She took a peck or two out of some tomatoes and peppers. But I think she liked that the garden provided a good place to hide.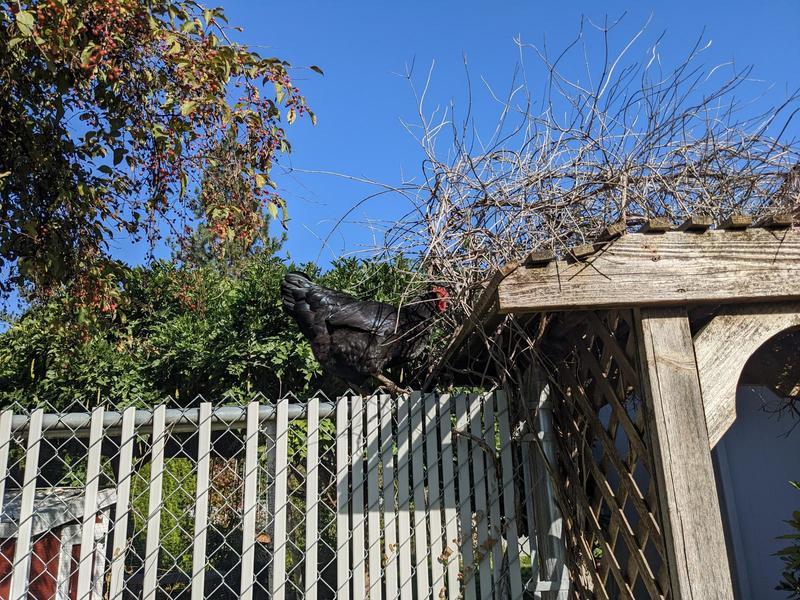 One time, in August, we were browsing the back garden—looking for a ripe pepper, some tomatoes for lunch—and there, in a depression in the soil under the calendula, beside the peppers, we found a collection of six lovely brown eggs. They had been deposited over the past week by that Black Star. And this was only a week after discovering a nest of eggs under a bush in the front yard. She likes to explore. I guess the compost pile isn't sufficiently interesting.
New garden skills
Composting with chickens is the first new skill on the list. Honestly, I haven't paid much attention yet to the compost pile. For now, it's a picked-through pile of whatever kitchen scraps we think the chickens might eat, leaves, sticks, weeds, pine shavings … we've stirred it once or twice. But the chickens are supposed to do most of the stirring.
Next up: dealing with pests. We did not have many pests, but I did get around to throwing and diatomaceous earth at the flea beetles on the tomatoes, spraying baking soda water at powdery mildew on the kale, and encouraging the children to feed slugs to the chickens. And that was more than I had done in previous years.
This winter, I'm going to learn how (and when!) to properly prune my plants and trees. So far, I've read a book about pruning from the library; I'll probably pick up another toward midwinter, which is when most of my plants ought to be pruned.
New tool: a scythe
Randy's frustration with the gas-powered lawnmower could power a rocket to the moon. Once it's started it's fine, I guess, but the pull cord to start it works one time in fifty.
My solution: I bought a scythe. A finely made scythe with an Austrian blade—forged by a company that had been making scythe blades since 1540.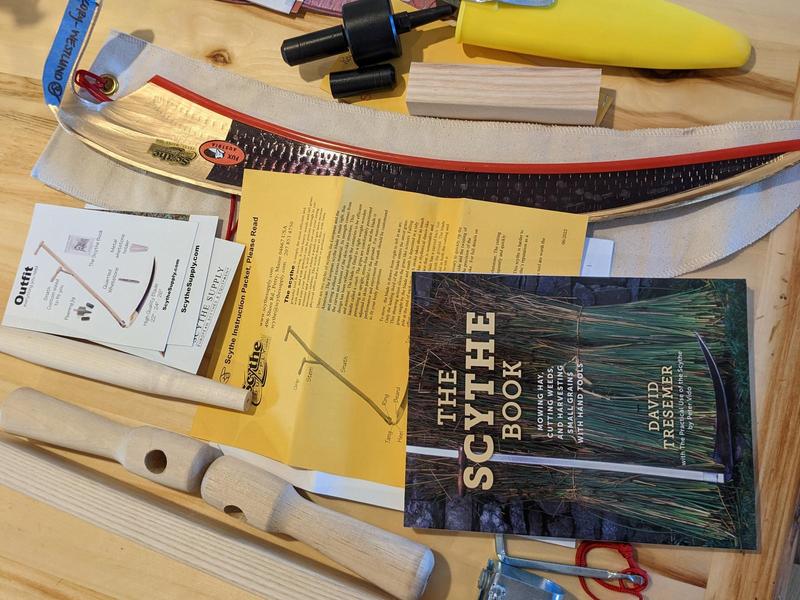 Is mowing with a scythe going to save me time? Probably, once I become an expert mower. Scythes are less efficient at mowing large acreage than a tractor, but if you have an acre or two, or less, to mow, then once you factor in maintenance, hassle, and noise, the scythe is certainly equal, and possibly more efficient. It's quieter; it's a nicer experience. It also trims near bushes and along edges of lawns far better than a push mower, and can get in between garden beds more easily, too.
Our yard isn't large. Less than a quarter acre, and not all needs to be mowed. But we do have a lot of edges. And I can mow with the scythe anytime; no need for Randy to interrupt a workday or hope the weather's nice on Saturday or remember to fill the gas can.
I'm not an expert yet, but it's a fun tool so far!
Looking ahead: Expanded yard
The next few years on our suburban homestead will be exciting: we suddenly have more space! The house next door came up for sale, and through a fortunate series of events, we bought it.
The house is a split-level: two bedrooms and a bath upstairs; living room and kitchen in the middle; another bedroom, bathroom, and living space downstairs. Our current plan is to rent out the top bedrooms individually, with the shared bathroom, kitchen, and living room. The downstairs—which has a convenient sliding door across the stairway, and a separate entrance through the garage, having been rented out separately before—will be a short-term rental and guest house. We've decided on this arrangement so that we can have the downstairs available when family or friends visit.
But that may change. We may decide to use an upstairs room as an office, and repurpose the bedroom in our house that is currently an office—perhaps as a craft room! We will eventually need more bedroom space as the kids grow, anyway.
The yard will be primarily for our use. Combined, the two lots are 0.34 acres (each is 0.17). Subtracting out the houses leaves about a quarter acre of yard—doubling our current space! The new yard has a wide sunny stretch that would be perfect for additional garden beds—probably 400+ square feet of garden beds—plus space for berry bushes, grapes along the fences, a fruit tree or two, and perhaps other small animals, such as bees, rabbits, fish, or meat chickens. It already has a couple plum trees, some lemon-mint plants, and a few raspberries.
With the planned addition of more garden beds, I'm looking into a better seed starting setup. Perhaps a small greenhouse, even as a temporary setup, or shelves with grow lights indoors.
In addition, the new yard doesn't have a watering system. I'd already been thinking about putting in drip watering in our yard next year to supplement the sprinkler system. Another project to think about.
Lots of options, lots of planning to do while we eat through the rest of our tomato harvest…
---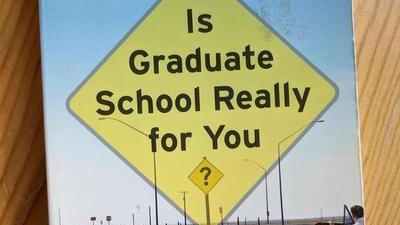 Book Review: Is Graduate School Really for You? The Whos, Whats, Hows, and Whys of Pursuing a Master's or Ph.D. by Amanda I. Seligman
A practical, informative question-and-answer book about the culture, expectations, and experiences of graduate school.