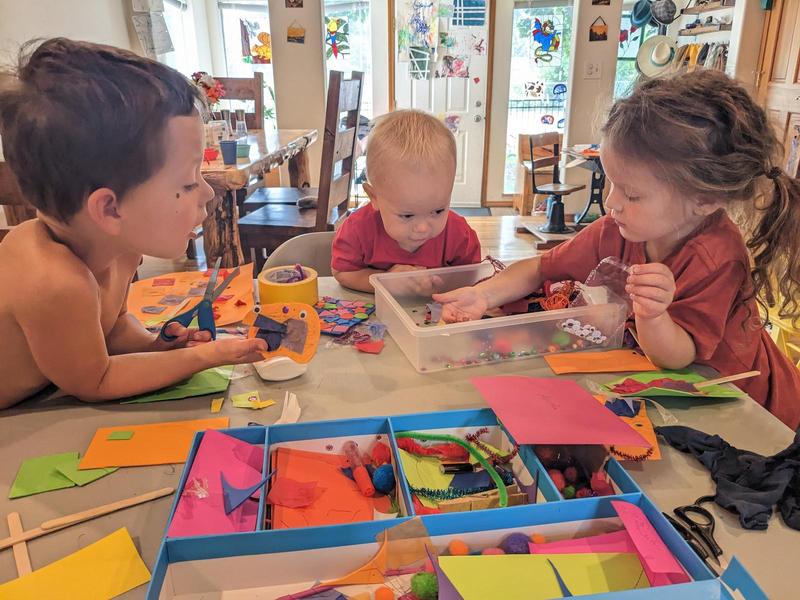 "School-Age" At Last: My Homeschooling Plan for School Year 2023-2024
Lots of outside, little curricula
This year, since my oldest kid will be 7 soon and officially "school age," people keep asking me what curriculum I'm using. To which I say: None? We're a bit more eclectic in our approach to homeschooling. My oldest, along with my 4-year-old and 2-year-old, isn't going to spend this year at a desk doing worksheets, unless he so chooses.
Our plan hasn't changed drastically from previous years—read about them: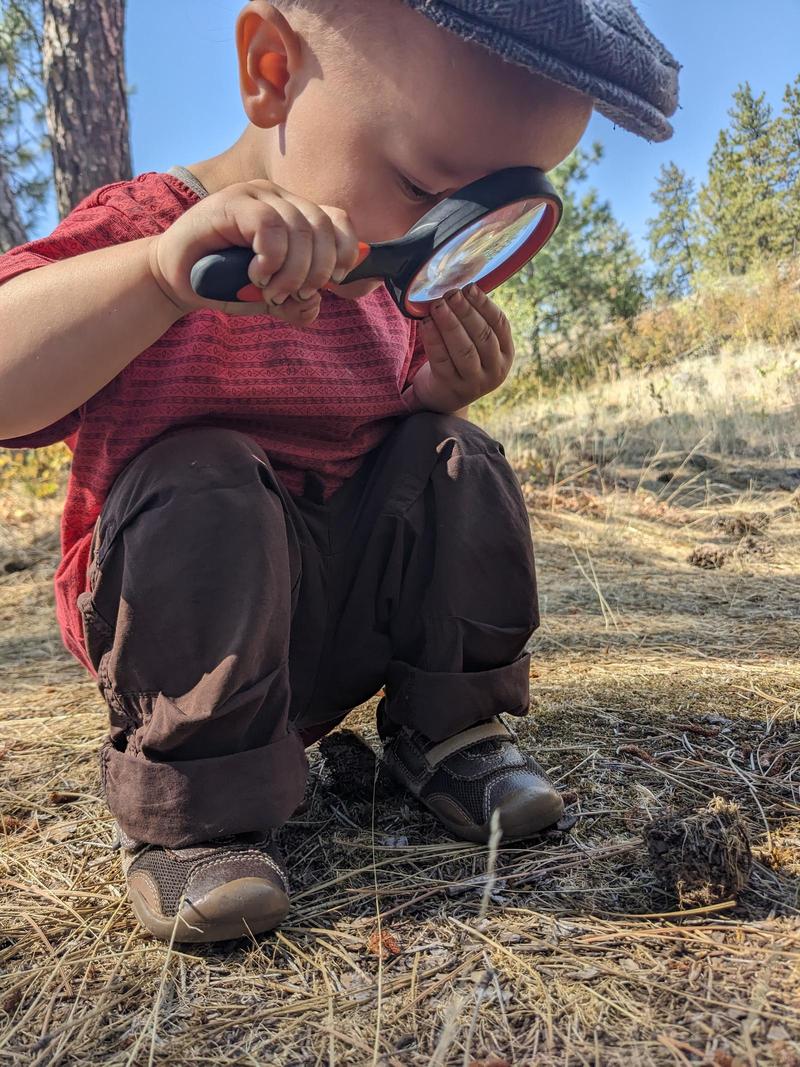 Organized activities: Forest school and Sudbury Co-op
We are continuing our forest school group, which includes mixed-age kids from babies through 9-year-olds. I love this group. We have a consistent circle time with a song, a book, and then an activity; the majority of the time is free play in the woods. It's wonderful.
This year, we're bringing in more Waldorf elements: seasonal festivals, poetry, seasonal rhythms, and a rotating schedule of activity types each month. These rotating activities include:
Bushcraft (e.g., fire starting , shelter building whittling, navigation),
Life skills (e.g., cooking, first aid, foraging),
Hand crafts (e.g., sewing, finger knitting, tie dye, weaving), and
Art and nature journal (e.g., painting, sculpting, observing and documenting, music, plays).
The group meets one day per week. Occasionally we add a second day for a hike or the beach. Some of the families are adding a second day this school year for a Spanish class, but we won't be joining that because…
We are also attending NISCO again—a Sudbury-style co-op at a 400+ acre farm. (Read about it!) This co-op meets two days per week, but we will probably attend only one day most weeks. We'll see how we feel. The kids are very excited to visit all the farm animals again!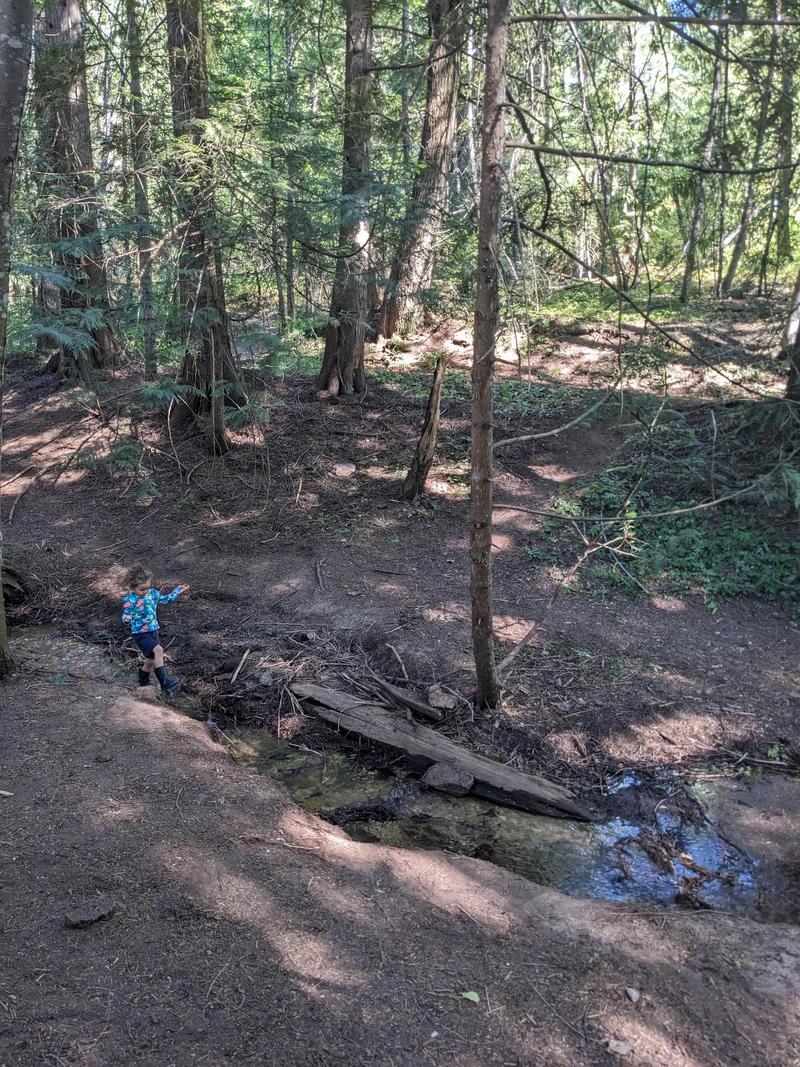 Learning by living
Daily life is a constant learning experience. The kids are involved in gardening, beekeeping, house renovation projects, reading, arts and crafts, cooking and baking, food preservation, shopping, playing games, attending community events and concerts, and all the other things that make up our day-to-day existence.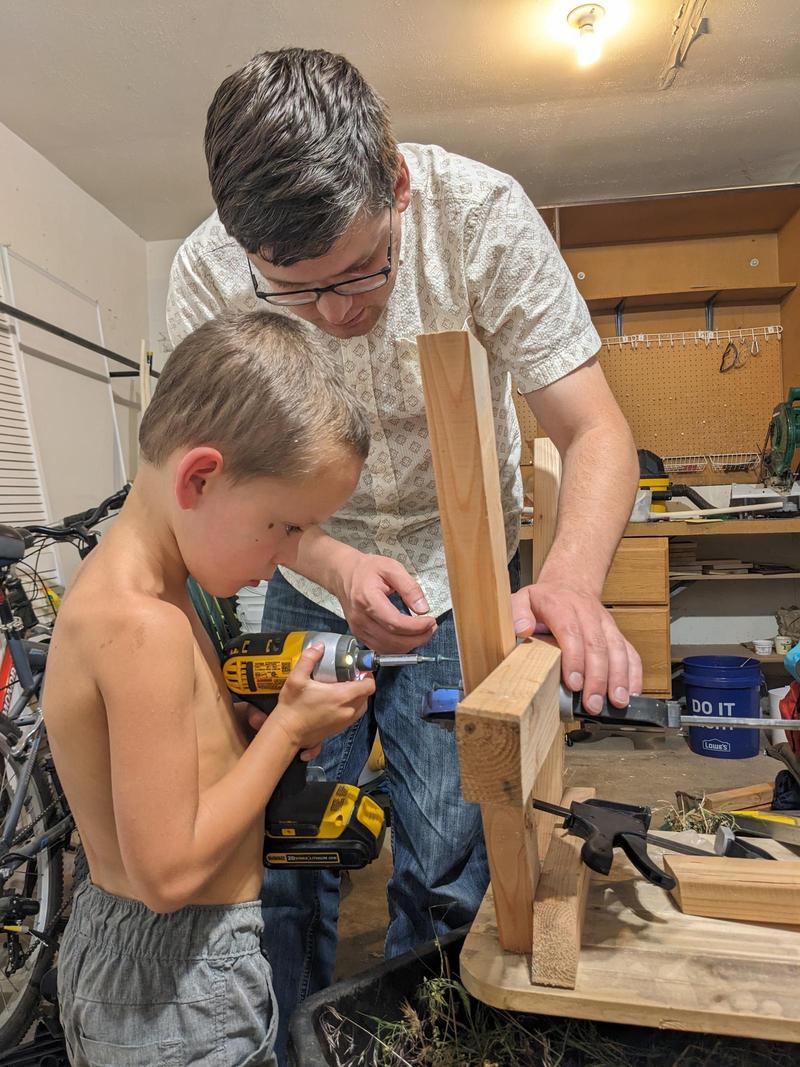 My husband Randy has been using Duolingo to learn some languages (currently, German); the kids tag along. We hear our 6-year-old explaining the vocabulary to the younger two, so it seems like he's paying attention. Duolingo has recently introduced a "learn to read" app, too, which we've been trying out. Seems like it has some useful phonics activities. We have a couple other reading skills apps that the kids play from time to time, too.
On the subject of screens: We tend to be a lower-screentime family. (Is that weird, since Randy's a computer engineer and I worked with robots?) We don't do unlimited screentime. We use the tablet/ipad for some educational apps and games, but not every day. (The kids don't ask to play every day, either; they get busy with other stuff.) We watch occasional videos. For instance, we like a bushcraft youtube channel featuring a couple guys who build cabins in the woods. Documentaries, recordings of symphony orchestras, a guy chopping up firewood with a chainsaw—that sort of thing. We want the kids to be technology-literate, learned at a developmentally-appropriate pace, with curated content. There's a lot of not great stuff out there that we'd like to avoid.
Books and reading
I'm making a list of books I want to read aloud this year, so I don't forget about good ones. And there are so many good ones!
We are continuing our subscription to Two Acre Books' library boxes! As I described in last year's reflection, I love these. So many good books, all on a theme for the month.
Beautiful thing-a-day
I'm adding a beautiful thing-a-day (probably in the morning as our first activity after breakfast). I don't remember where I found this idea, but I love it. Every day, share something beautiful with your children. A painting, a poem, a natural wonder, a song—something beautiful and fascinating. Spend at least a few minutes exploring it, and of course, spend more time as interest dictates. This way, your children learn about what is good and beautiful.
I'm starting with wonders of the world because I happened across a book at the library with a nice two-page spread on each of the natural and manmade wonders of the world: Mt. Everest, the Colosseum, the cave of crystals, and so on.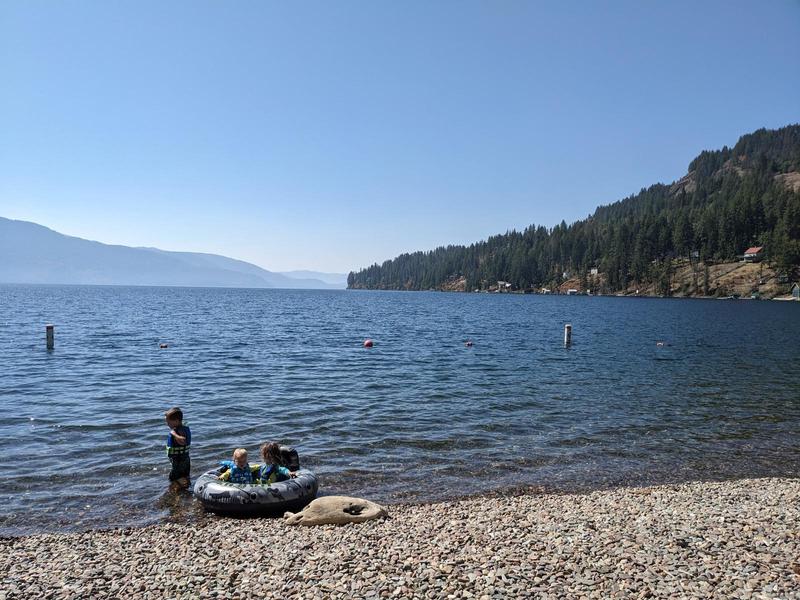 Structure and rhythms
Now that my oldest is almost 7, we've also been thinking about structure. Not in terms of a structured curriculum—more in terms of the rhythms of the day. We have some rhythms; I'm wondering if more would be helpful. For instance, starting weekdays with consistent after-breakfast activities (like the thing-a-day). I'll report back about what we actually do.
At a higher level, we plan to follow the same seasonal rhythms as in previous years. Summer: beaches, local events with art and music, the state faire, gardening, hiking, and everything outside. As the weather cools, we do more indoors—crafts, art, reading, baking, games. We play outside plenty, too, but we might not stay out all day.
On the faith front, our 6-year-old gets to start the catechism class at the parish this fall with the other 6-year-olds. Being a classroom environment, it may actually be a fun, interesting experience for him, since it's not our usual thing.
There are always more activities that we would like to do, but won't have time for. Such is life! Swim lessons will be necessary at some point, maybe this winter at a heated indoor pool, but are hard to fit in since the kids would need to be in three separate classes. Many of our friends do martial arts. Some are learning new languages—and we're dabbling in that, but wouldn't it be fun to do more? And so on. There's always more!
Need ideas for your own homeschooling?
Read these book reviews and education posts:
---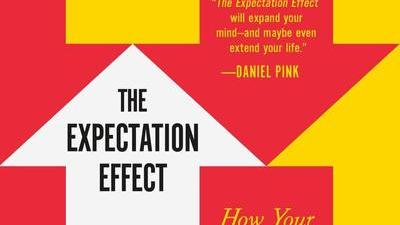 Book Review: The Expectation Effect: How Your Mindset Can Change Your World by David Robson
What you think and how you approach a situation can significantly affect what happens. This book explains how your beliefs influence real-world outcomes—health, sleep, stress, memory, concentration, fatigue, creativity, and more.