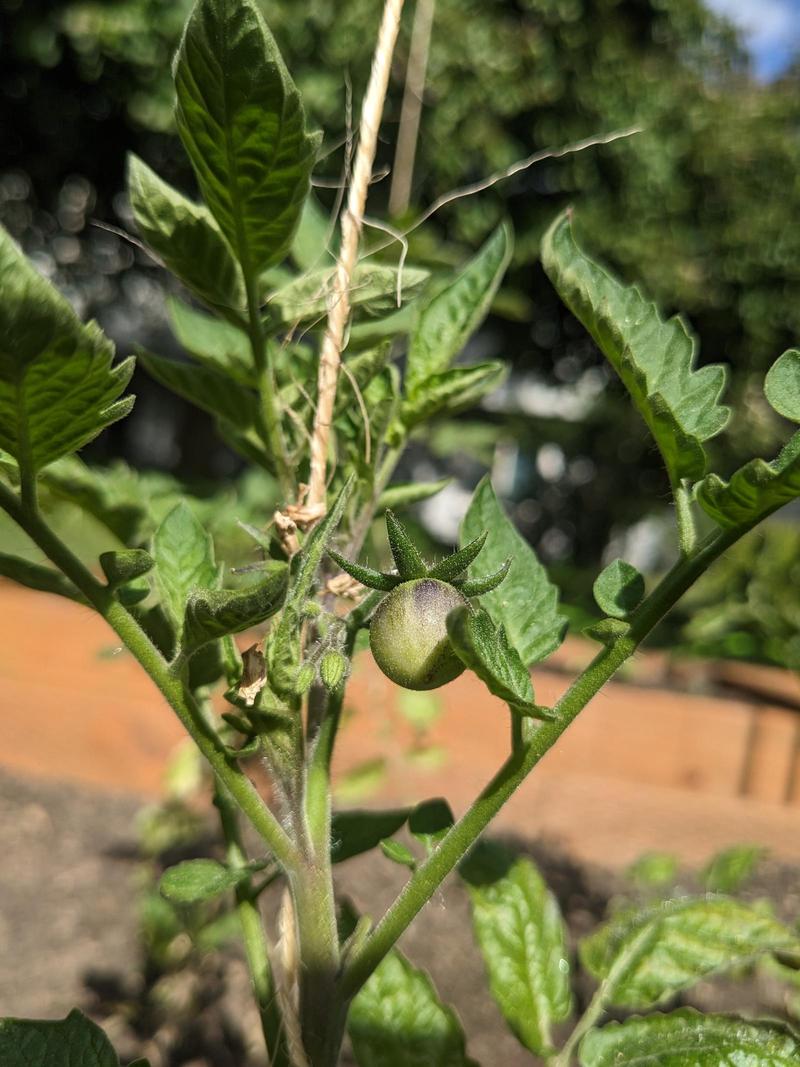 Backyard Gardening, Year 5: Expanded Beds and New Seed Starting Setup
Goal: More tomatoes than ever!
This is year 5 in the garden! And wow, is it a big year. Expanded yard, new garden beds, new plant varieties, new seed starting setup, bees!
Links to my gardening journey so far: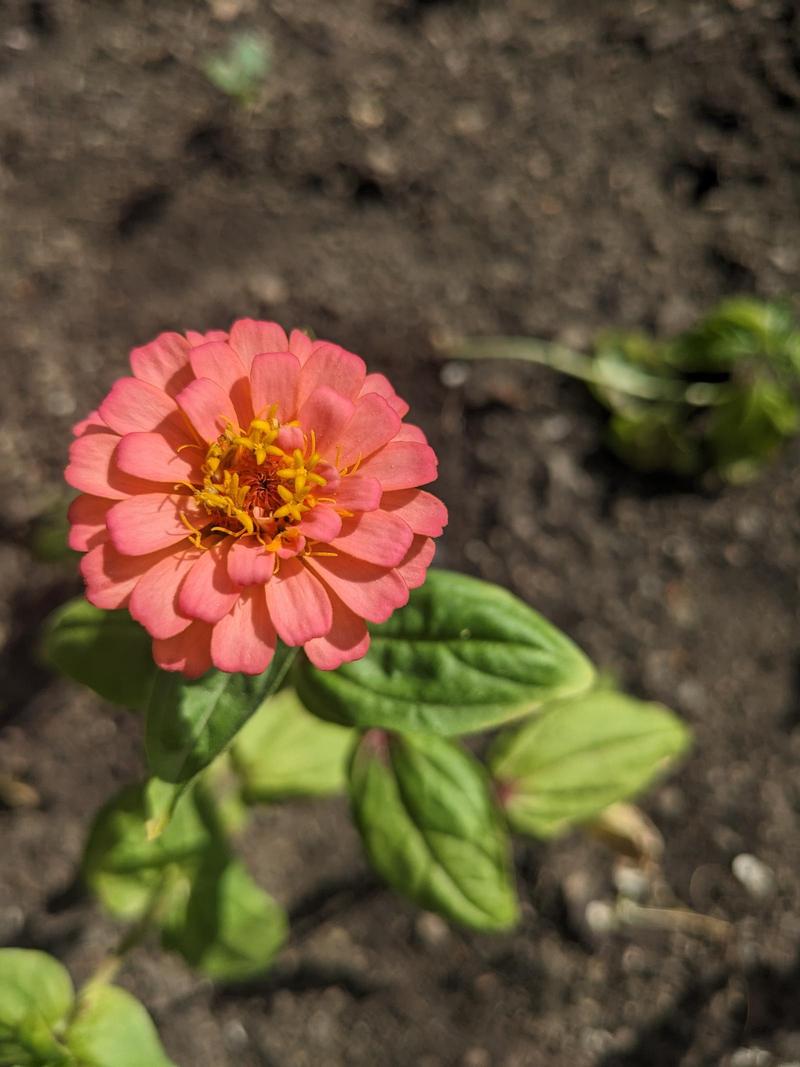 The new yard
The biggest change this spring was the addition of the neighboring yard. As I mentioned in my fall harvest post, we bought the house next door and joined the yards. As for the house itself, it's a split-level. We're renting out the upstairs and using the downstairs as a guest house (e.g., for when Randy's parents visit). Eventually, Randy may move his home office to that house so we can have our third bedroom back in our main house, when the kids get bigger.
The new backyard provided the glowing opportunity to expand the garden. It consisted of a large weed-lawn abutting the back fence (grass, dandelions, clover, violets, miscellaneous other green things that are not grass, which is honestly nicer), beside a mature crabapple tree, with an awful winding path that went nowhere you wanted to go and was covered in rubber mulch (literally ground up old tires—who thought that was a good idea?). There were two "patio" areas made of large stone pavers, but whoever had put them in hadn't done it properly, so they weren't level—really just large tripping hazards.
Fortunately, there were lots of nice flowering plants, too; the front yard also has a lawn edged by bulbs and other shrubs. And lawns have potential: they are ripe to be replaced with more useful stuff. So, that's what we did.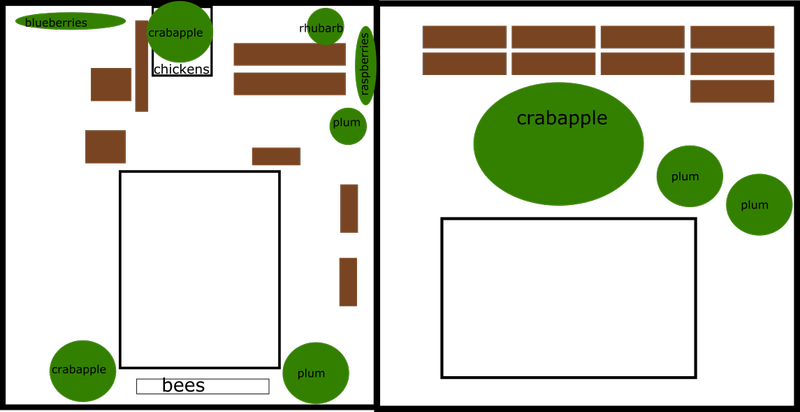 Building new garden beds
We filled the new back lawn with raised garden beds. Once we started, it took about three weeks to go from lawn to garden (there a rainy weekend where I slacked off in my digging…) We more than doubled our garden space! We went from around 200 square feet of raised beds to over 600 square feet of raised beds. (There's also the long stretch of flower-garden-in-progress along the front fence, and all the other flowers, shrubs, etc—and we increased that space too, adding in the rest of the new yard.)
The long edge of the lawn rectangle runs north-south. It's the perfect spot to put two rows of raised garden beds. It gets about as much sun as the beds we built in our yard when we moved in, minus a little because of various trees. It's relatively sheltered between the neighborhood houses and other trees, though it does get more of a consistent breeze than our yard.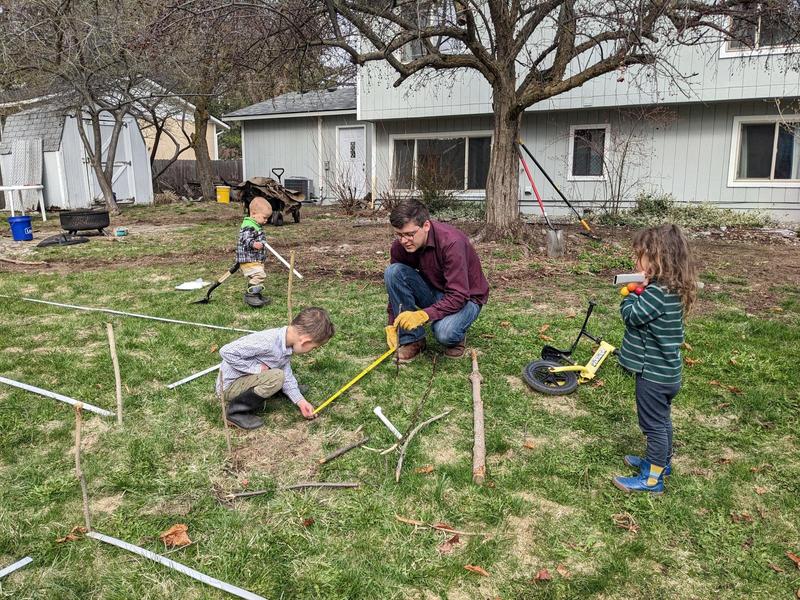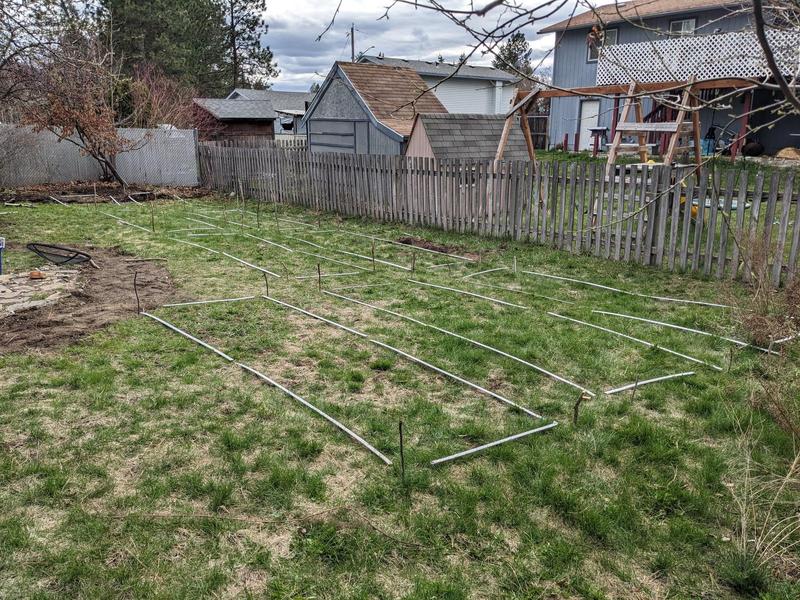 The first step was moving the grass and leveling the ground. Fortunately, I had the perfect place to put all that sod: elsewhere in the yard! That decorative snake of toxic rubber mulch went in 10 giant garbage bags to the dump. I pulled the landscaping fabric out from under it (and all the giant rusty staples holding the fabric to the ground), then covered the path in grass.
I also piled all the uneven tripping stones in a corner—to be reused later, properly leveled—and moved more sod into those areas. After pulling out more landscaping fabric and a bunch of rocks. One of the tripping patios had been placed on top of a layer of older landscaping rocks, as if someone hadn't wanted to bother removing the previous landscaping, and just … added stuff on top. There was more evidence of this practice later: an entire area in the corner where someone had planted grass on top of some previous nice rocky area, complete with plastic edging.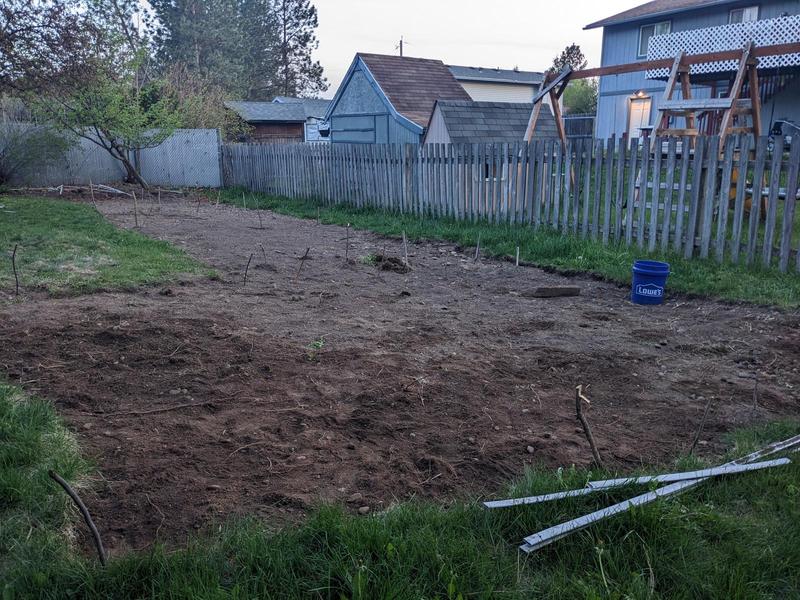 After getting the grass out, we had to level the ground. It was sloped. Not too sloped, but enough that we had to dig a foot or two down at the top. So, lots more quality time with a shovel. I intend to line the upper edge of the slope with pavers or some other stones, to keep the dirt from falling down and make a nice edge. This will undoubtedly entail moving more grass and dirt, though, to make a reasonable-width pathway around the edge of the beds.
Then it was building time! Randy had 28 12-foot-long 2x12s delivered. The beds were 12'x4'x1'. We used three boards per bed: one for each long edge, one split in threes for the edges and an across in the middle.
Construction was pretty swift once we got started—we went from dirt to nine beds in a day. It felt much faster than constructing the first pair of garden beds, and it probably was, because the first time, the beds were longer (14' long—not a standard size); Randy double-stacked 2x6s instead of using 2x12s; and there were more boards going across, too.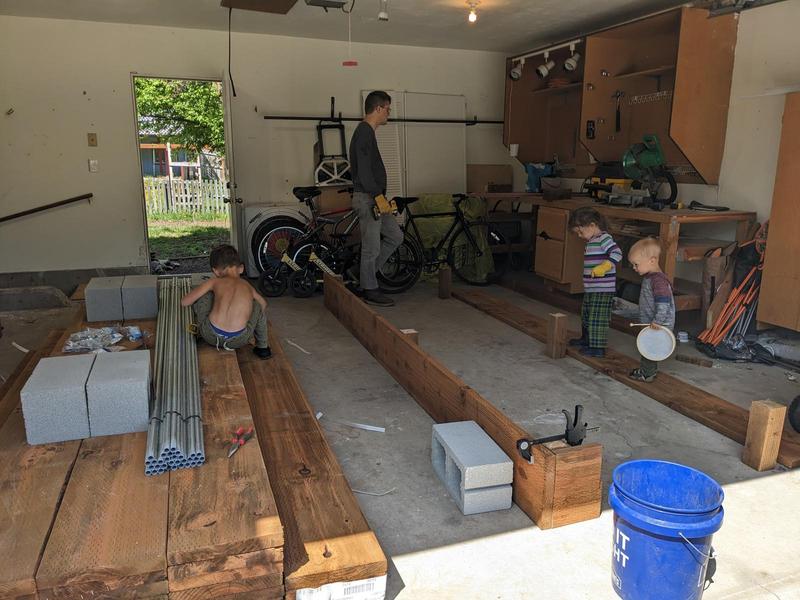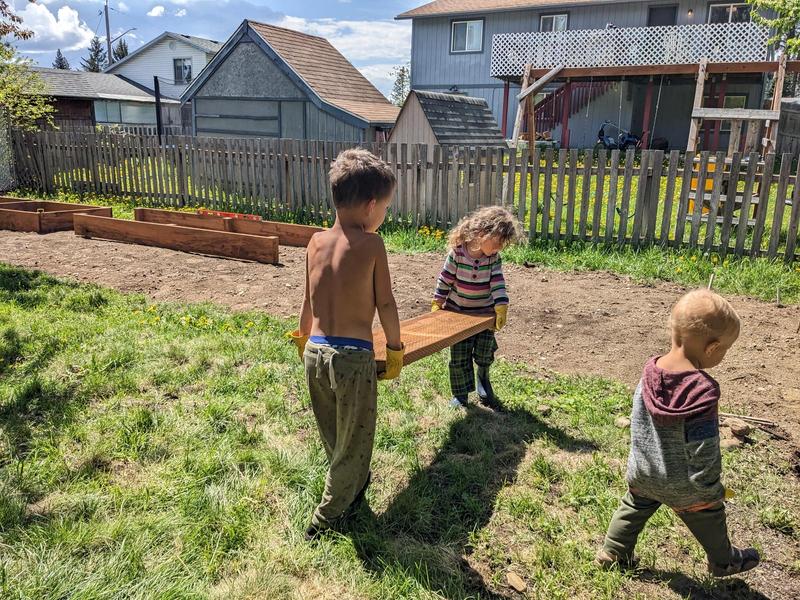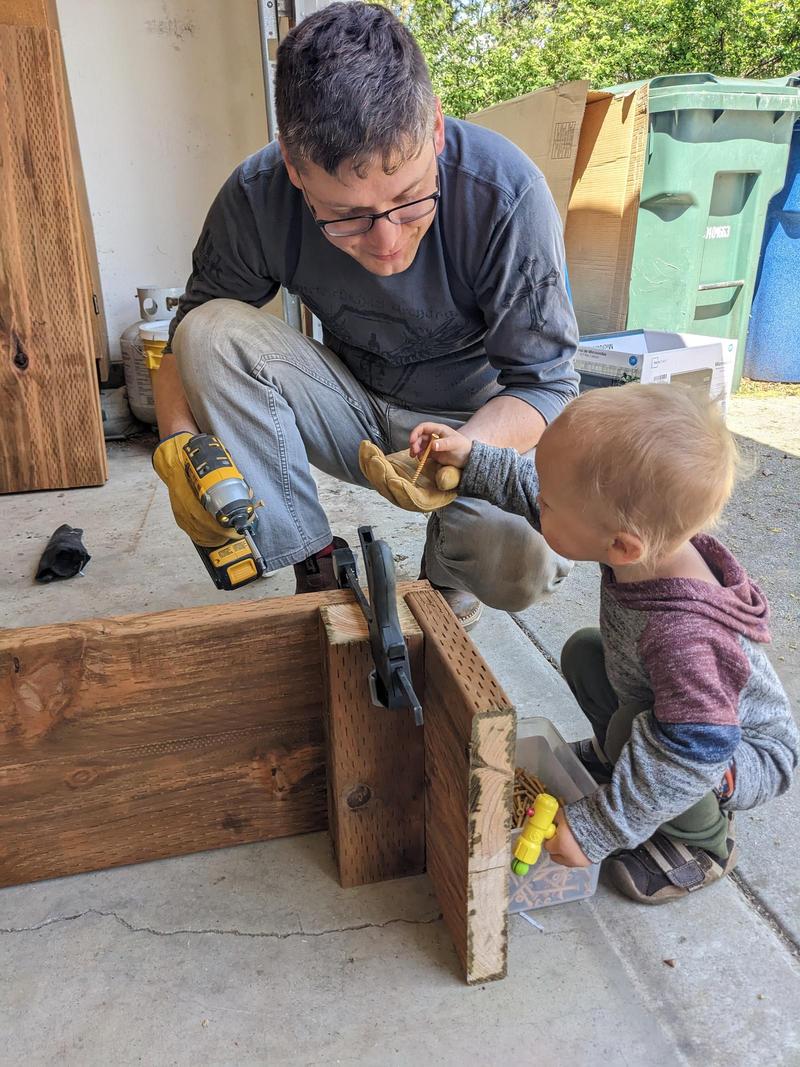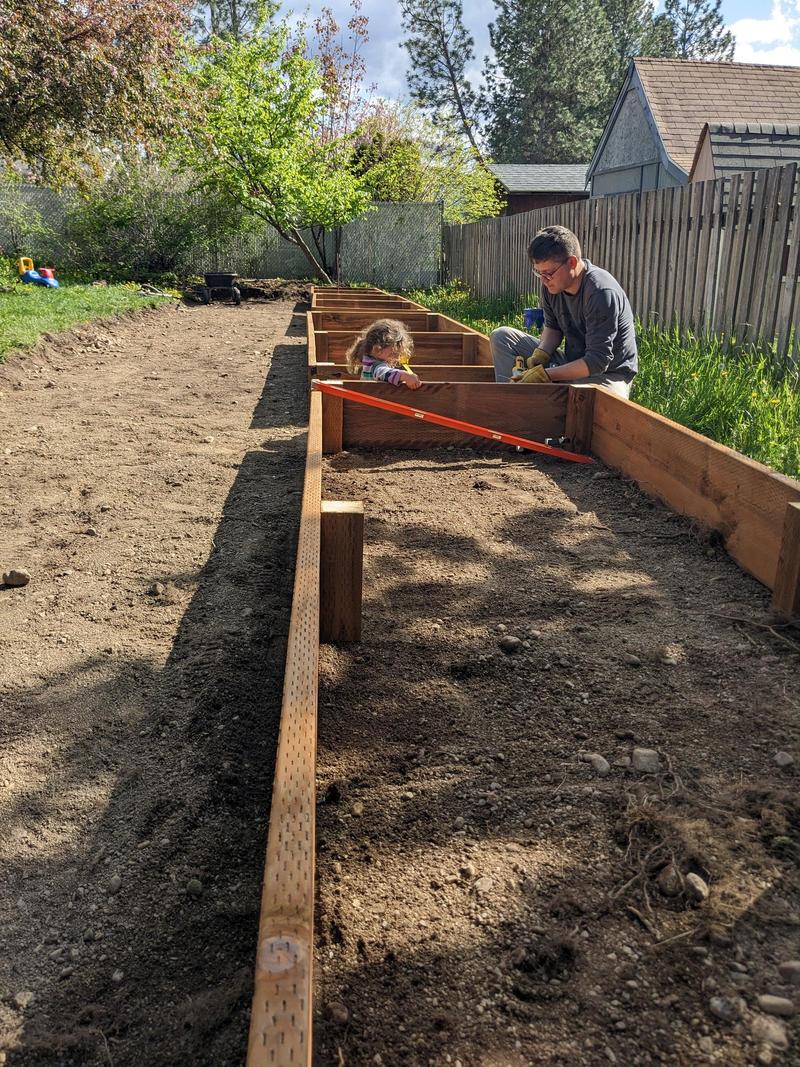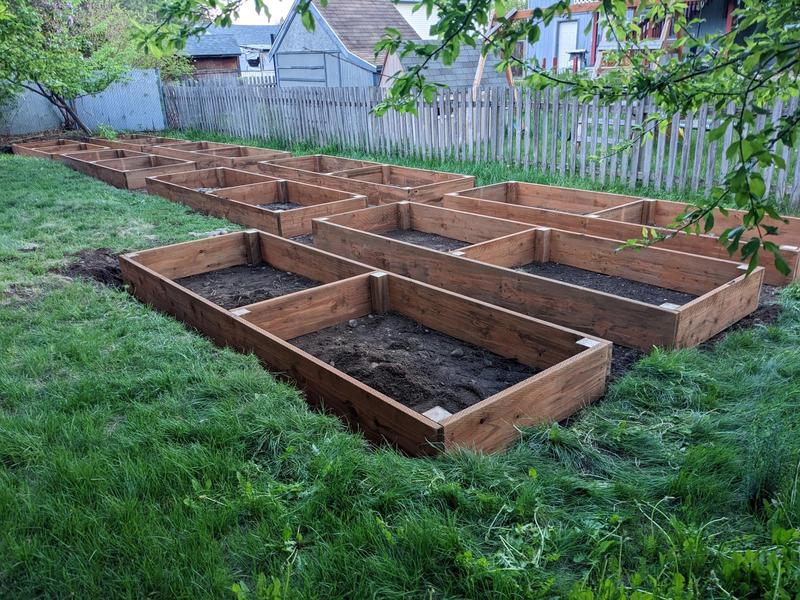 Aren't they beautiful?
The next step was dirt. We had 12 cubic yards of a 50-50 topsoil-compost mix delivered via dump truck onto the driveway. Then it was back to manual labor… more of that quality time with shovels. And a wagon. We borrowed a friend's 13-year-old son for the afternoon, who was happy to work hard and brought an extra wheelbarrow.
The dirt was delivered around 11:30am. By 6:30pm, all the beds were full.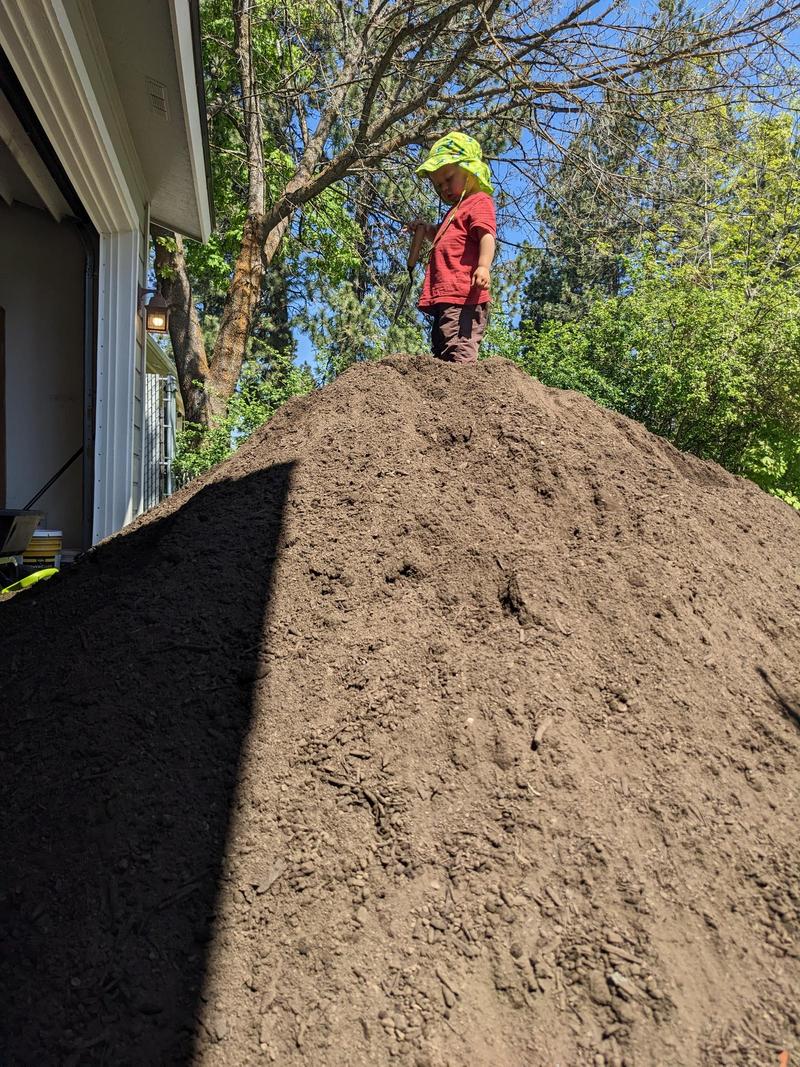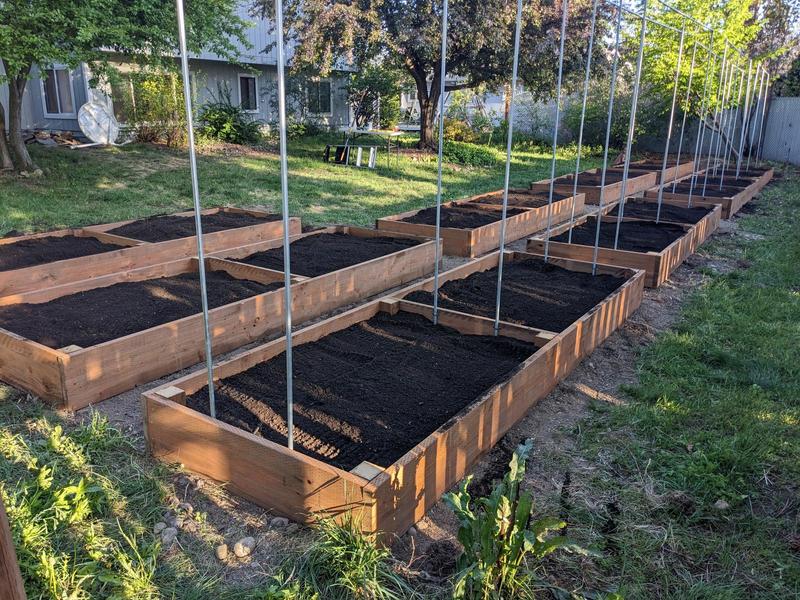 Randy also spent half the soil day adding the tomato trellises to the row of beds in the back. We opted for approximately the same design as in our existing beds: First, we pounded rebar stakes at either end of the bed, plus two in the middle. Then, we placed 8' electric conduit pipes on the rebar as uprights, and anchored them in place with pipe straps. More conduit went across the top: a 10' section (since that's as long as the conduit comes) connected to a 2' span, attached with elbows and a T.
I will support the tomatoes with twine like I've been doing in the main yard—tie on the top bar, tie loosely around the base of the plant, wind the plant around the twine as it grows. I've had good luck with this. My twine has never broken, not even in a windstorm, but my yard is fairly protected. The new yard has slightly less protection, since the back fence is 4' wood instead of an evergreen tree hedge.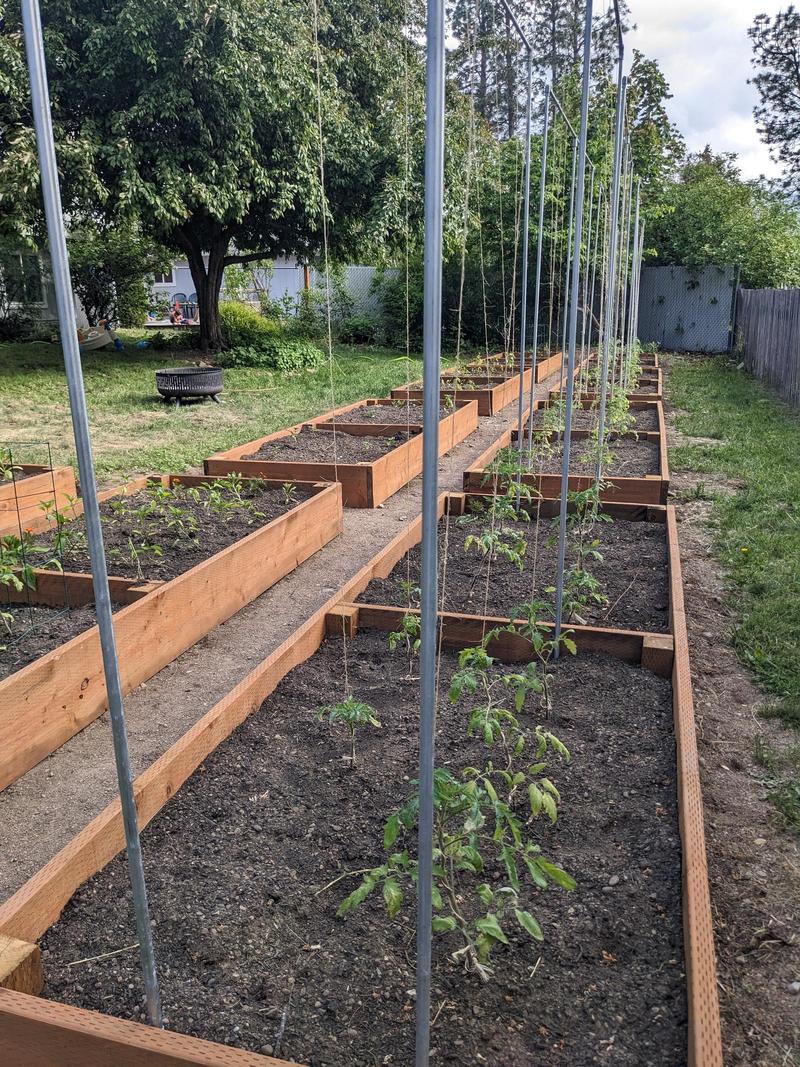 The additional garden space and trellising means I can, finally, rotate my crops! Previously, only the two beds in the backyard worked for tomatoes (since that's where the trellising was), and I always want to grow a lot of tomatoes, so it wasn't an option to swap between those two beds—twelve tomatoes plants wouldn't be enough. Even the 24 or so that I had wasn't enough… which is why this year, I have more.
Watering systems
One remaining step for the new beds is figuring out watering. I'd like a drip watering system. Right now, the main yard has in ground sprinklers (there when we moved in), which mostly works, until late summer when the plants start blocking water to the plants behind them because they're so big. And it doesn't work for a couple of the smaller beds, which are out of sprinkler range. The new yard has no watering system set up at all, and desperately needs one, because no way am I spending an hour a day holding a hose in the heat of summer.
Thus, drip watering. This year may be a temporary solution of drip watering tape; eventually, we may put in something more sturdy, with PVC, and a trench from the spigot out to the beds, to avoid unsightly hoses and pipes and tapes running across the yard.
Both yards need it. One of my gardening goals last year was to do a better job mulching and watering, but besides adding some leaves and grass clippings as mulch, I didn't change that much. This is the year!
Seed starting set up
In anticipation of the additional garden space, I set up a better seed starting area. I bought a set of large metal shelves—six feet high, five feet long, five shelves (these). I spaced the shelves so the top were closer together, for the seed trays; the lower shelves I gave to the transplanted taller plants. We hung grow lights on the bottom of each shelf.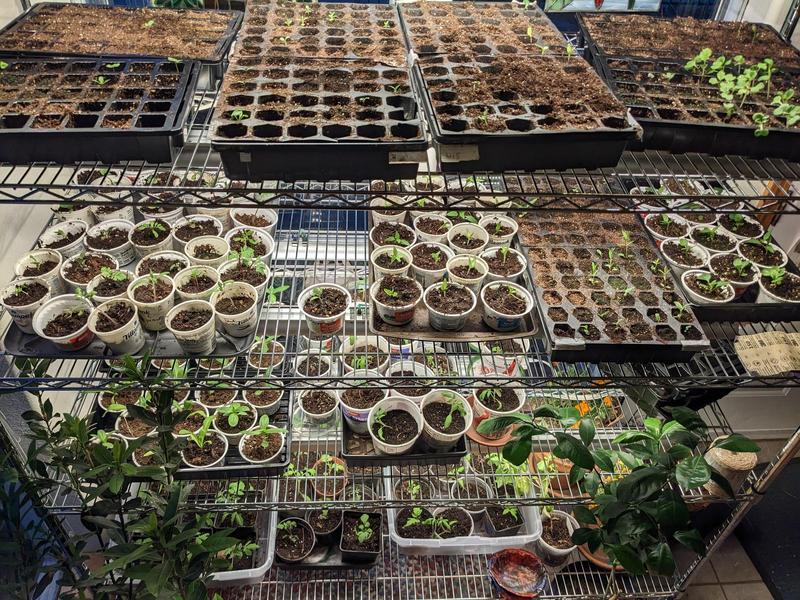 The grow lights appear to have made a big difference. The shelves are by a full size south-facing window, which is where I had started seeds in previous years—and the plants did okay! But this year, my tomatoes are definitely taller and healthier. They outgrew their shelves. A handful even had flowers when I transplanted them—and a couple baby tomatoes! Same with the peppers. I started seeds about the same time as last year.
The only change I'd make is an easier way to get all the plants outside at hardening-off time. This year, I carried trays of plants out; I would like to be able to roll the whole shelf out (it has wheels). I'm not sure I have a location on the house that would work for that, though. Maybe a heated greenhouse is in my future…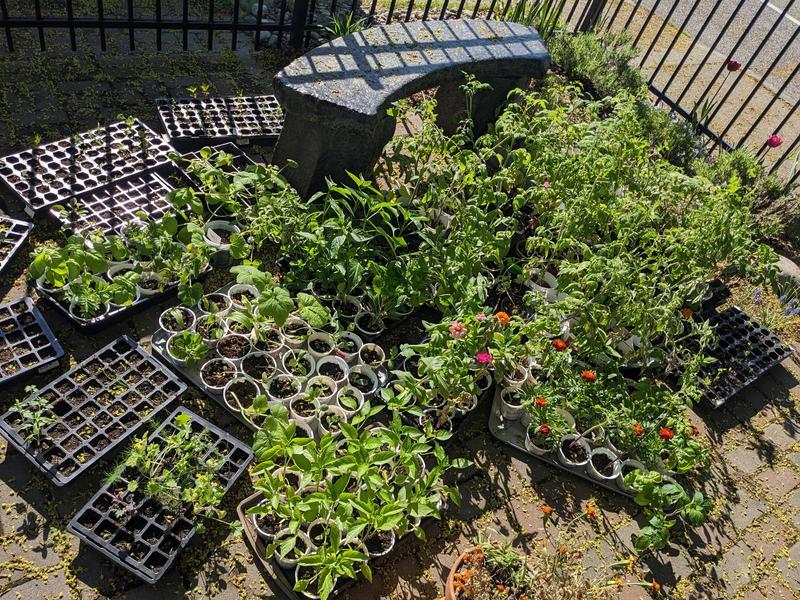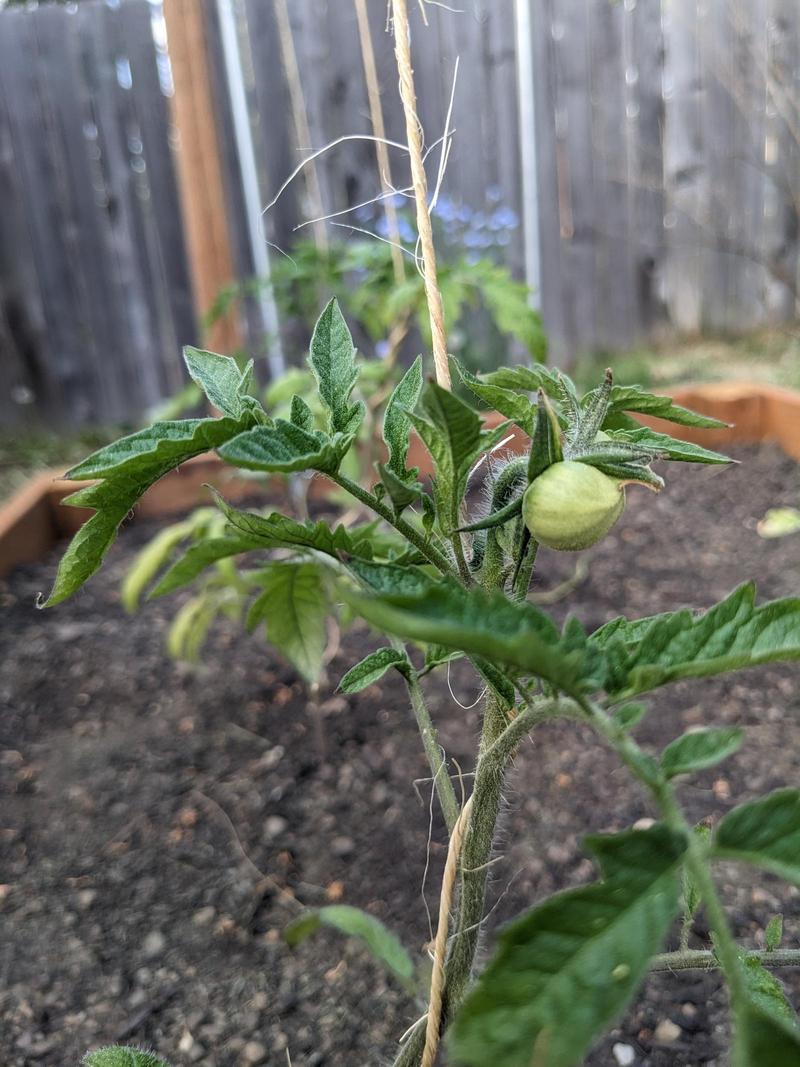 What I'm planting
This year, I bought heirloom seeds from Baker Creek, to add some new plants to the rotation. The big things are new varieties of melons and squash, carrots, and more flowers. I tried carrots before, but they were small. With this year's sunnier location, they may do better.
My starts and seeds include:
Tomatoes: Black Krim, Costoluto Genovese, yellow heirloom, cherry, Roma, yellow candy, black strawberry, spoon
Herbs: basil, purple basil, rosemary, tarragon, marjoram, thyme
Flowers: alyssum, marigold, pansy, aster, zinnia, milkweed, zinnia, echinecea, nasturtium, snapdragon, bluebell, lavender, calendula, safflower
Vegetables: Kale, purple kale, baby bok choy, asparagus, ground cherry, bloody dock, cucumber, bell pepper, sugar snap peas, purple garden beans, carrots, little orange carrots, purple dragon carrots, white corn
Melons and squash: watermelon, kajari melon, pumpkin, desi squash
Perennials already growing include:
Rhubarb, thyme, chives, oregano, peppermint, lemon mint, lemon balm, sage, lavender, raspberries, blueberries, plums
Annuals that have helpfully reseeded themselves include:
Kale, dill, chamomile, cilantro, parsley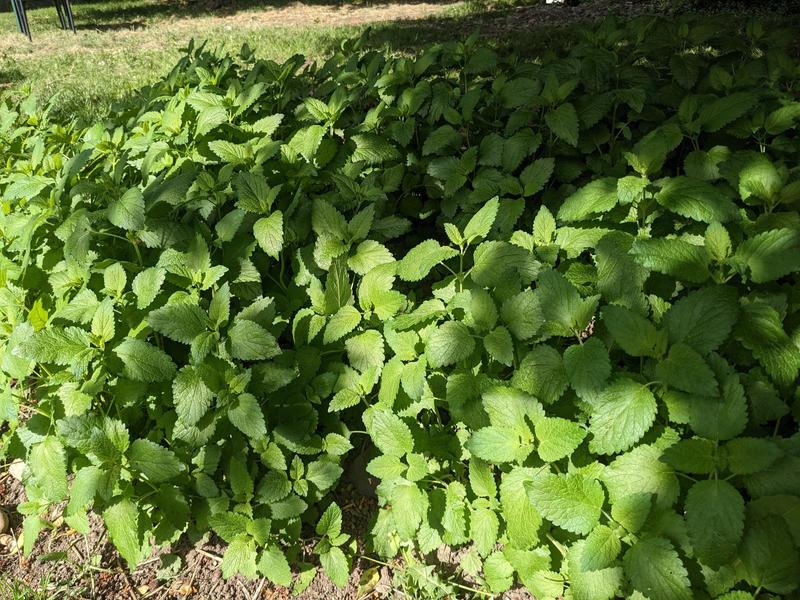 I'm especially excited about the new tomatoes. I started over 60 tomato plants… A couple didn't germinate; a couple seem to have wilted and not survived transplanting into the garden; I currently have 62. A couple even have baby tomatoes on them already!
This more than doubles the number of tomato plants. We're going to snack on tomatoes all summer, make tomato soup and tomato sauce and tomato jam, try making salsa… it's going to be great. Tomatoes are one of the reasons I garden (read the story). Tomatoes from the store just don't taste the same. I think tomatoes have one of the biggest differences between store-bought and garden-fresh. Or maybe I just like tomatoes a lot.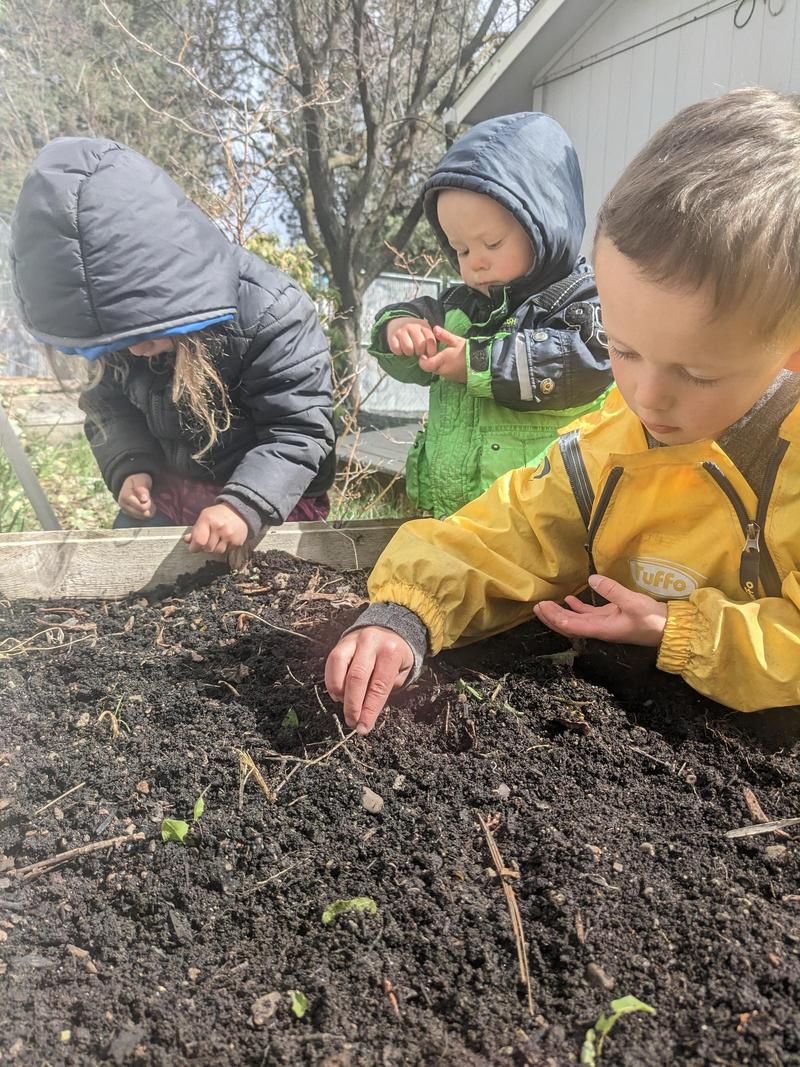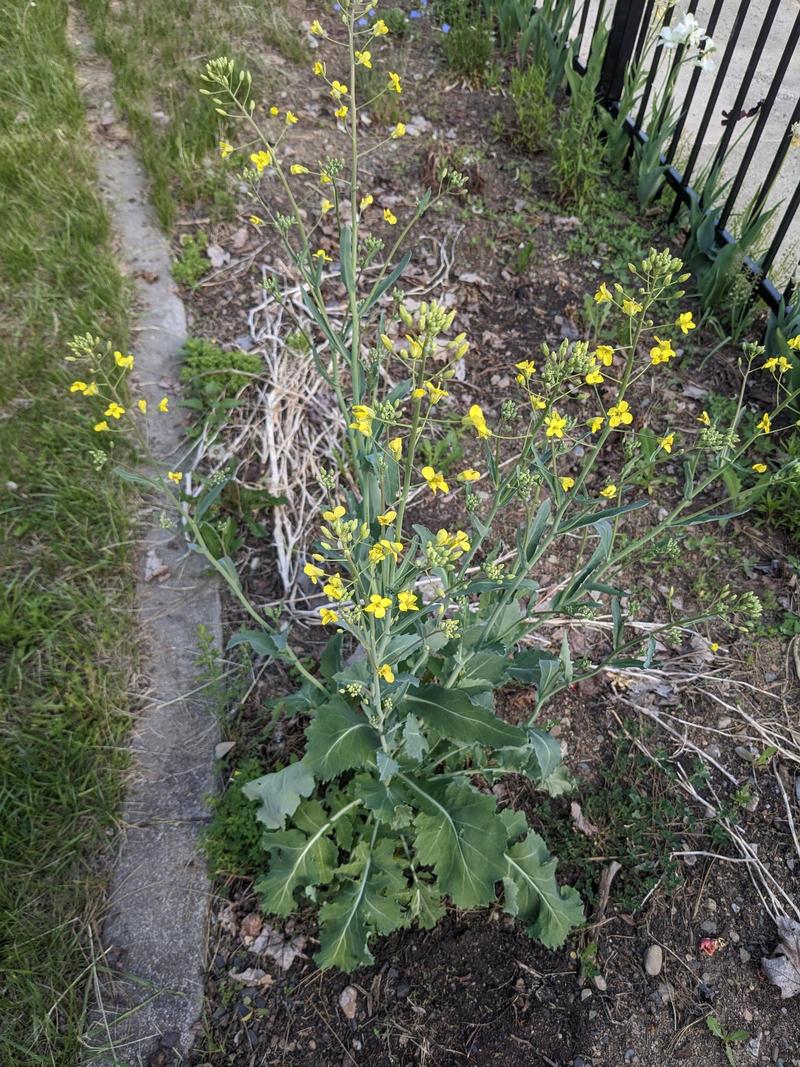 A closer look at the edible perennials
One thing I'm trying to learn is how to prune plants well. I pruned the blueberry bushes this year—I think I did a decent job, I only read two books about pruning first. One of the four bushes we added last year—the one that didn't transplant well, and already looked half-dead last year—didn't survive the winter. Since it's on the end of the row, I'm considering replacing it with a dwarf fruit tree.
The hostas I planted in the fall are coming back strong. I'm looking forward to trying them! Unfortunately, the chickens can reach one of them through the fence… but only half of it, it's just at the edge of their reach, so most of it is still leafy.
The new yard has more raspberries! I also found raspberries popping up in my raised garden bed, beside the raspberry patch, so I moved them all over by the fence to join their brethren.
We will be adding grapes along the back fence of the new yard. The fence there is 4' wood, and old enough that it'll need repair or replacement in the next decade. Our plan is to build a grape trellis two feet out from the fence and train the grapes along it. If we don't get it in soon (though the plan is to get it in soon), we'll add it in the fall. I'm not sure which grape varieties we will get yet—some kind of table grapes. I'll check local nurseries for varieties that grow well in our climate.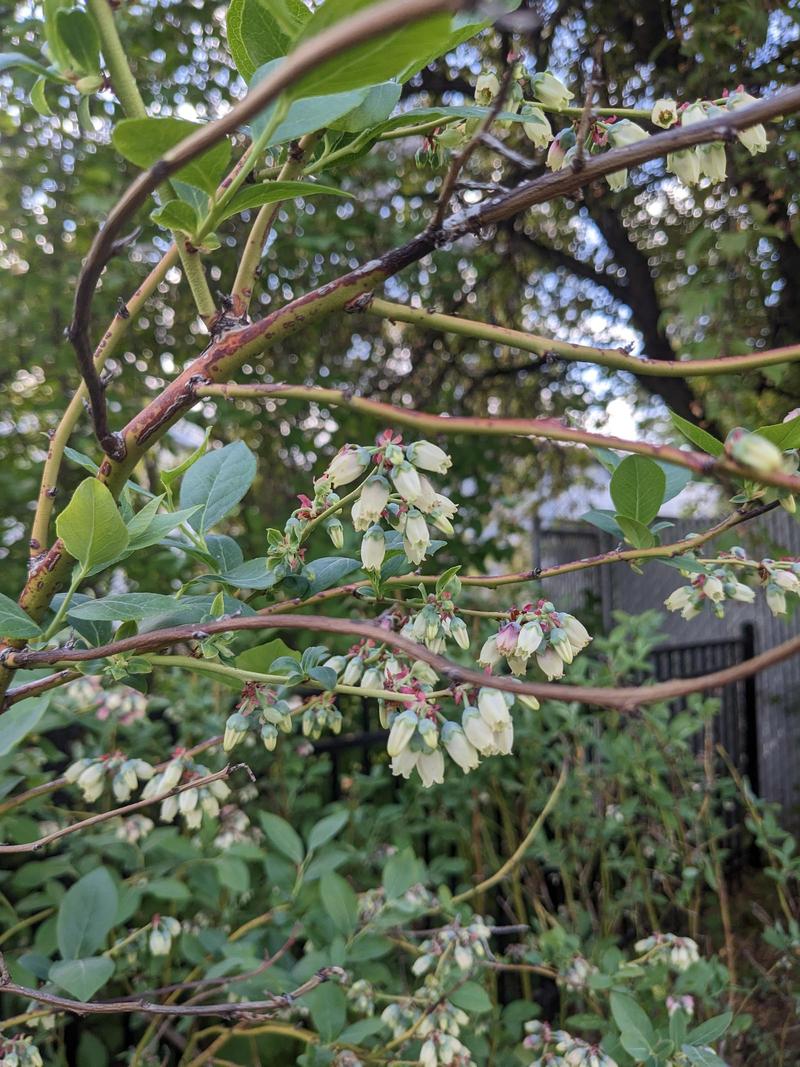 Trees
We have a couple fruit trees: our green gage plum, two plums in the new yard, several crabapple trees (good for jelly). I'd like to add a couple dwarf apple or pear trees. I have a couple spots marked as potential locations: the new front yard, the corner by the new garden beds, the spot where a lilac died, in the main front yard where one blueberry bush didn't survive.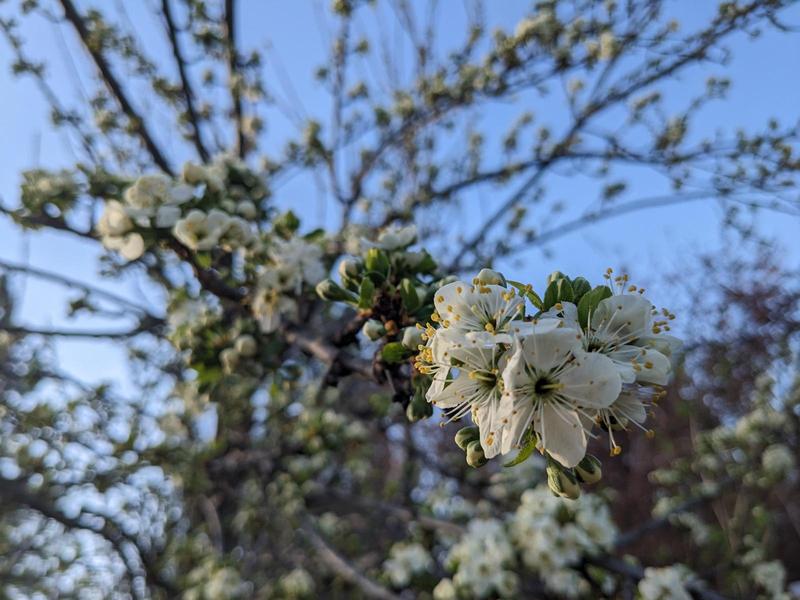 Flowers
My earliest flowers were the bulbs. The 250+ bulbs I planted along the fence last year are beautiful and so, so nice to have! We anticipated them all winter; as soon as the snow melted, we kept a watch for the first shoots to poke up above the soil. The crocuses came up first. Then the baby daffodils, followed by the big daffodils, grape hyacinths, and finally, the tulips! I have a mix of early and late blooming tulips, so the fence line has increased in color over the weeks. So lovely! I am so happy I dug that long trench in the dirt last year. It was a lot of work, but it was worth it.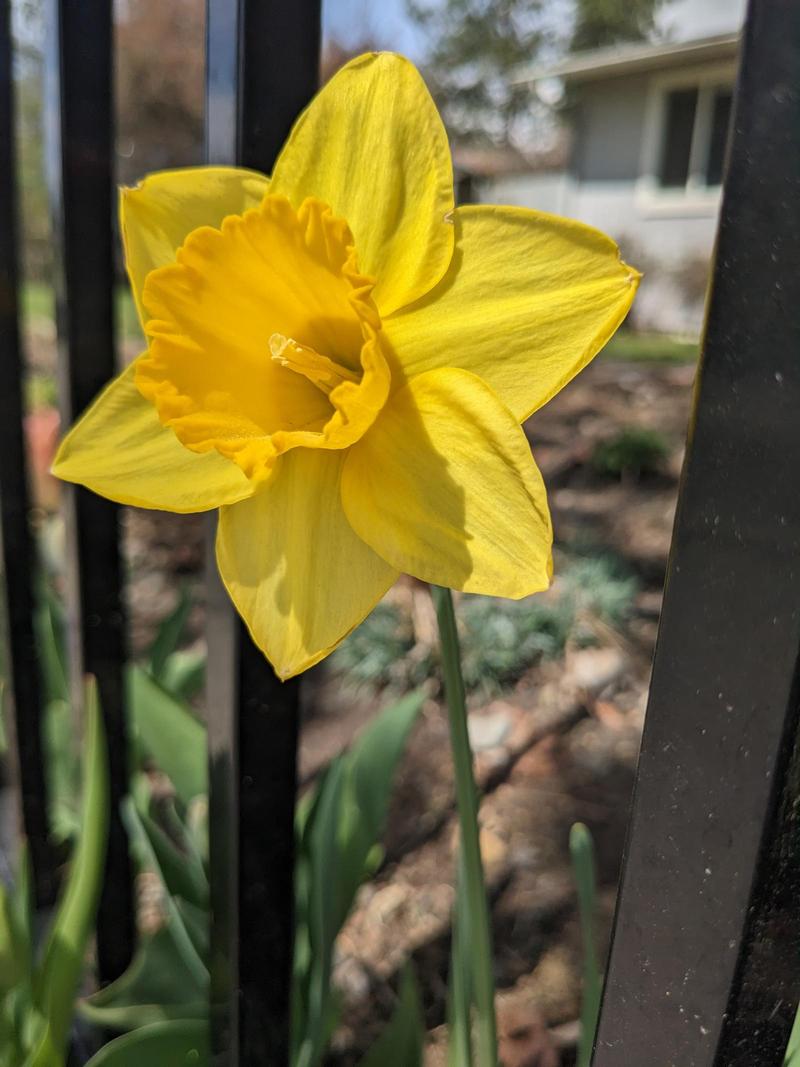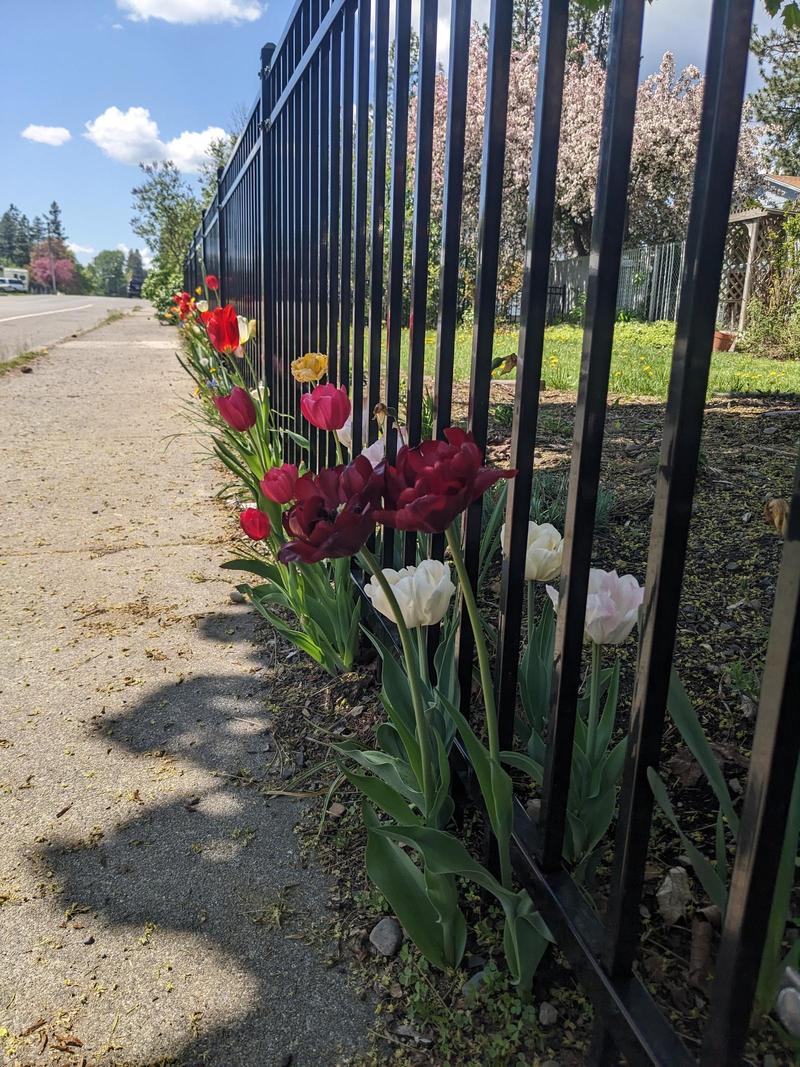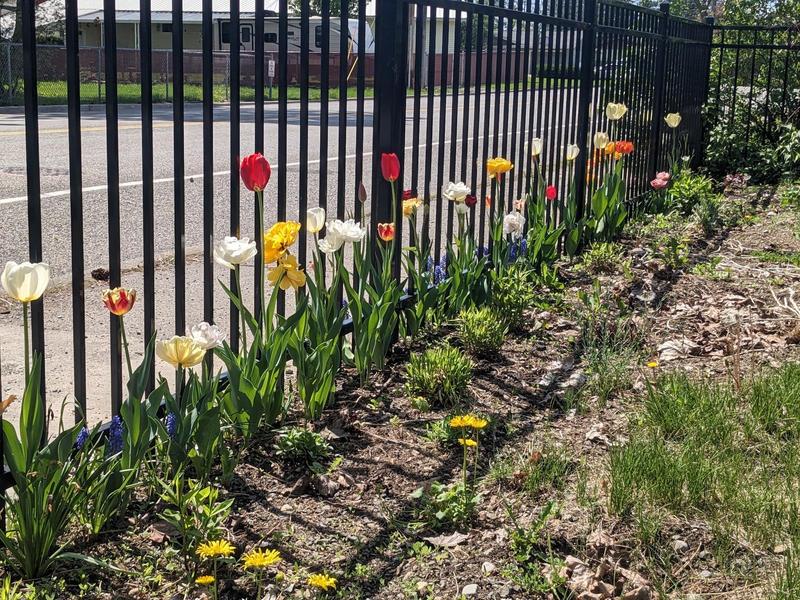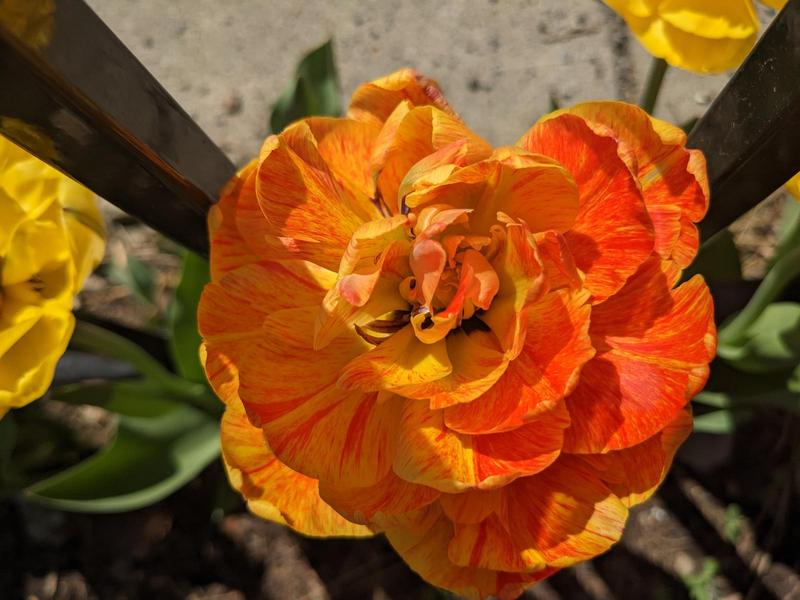 The other flowers for my front flower garden, in rows just behind the bulbs, are waking up and leafing out. A few are putting out early flowers, and the rest will get into full swing about the time the bulbs finish their show. I know I need to add more, however; I didn't fill in all the spaces last year with my 50-clearance-plants spree.
In the rest of the yard: Some of our lilacs in back died, choked out by the Virginia Creeper the neighbors allowed on the shared fence. When we bought the house, we dug out every inch of that snarly, viny thing. And good riddance! I'm waiting to see whether some of those lilacs return—they can supposedly grow back from just a stump. If they don't, we may add a dwarf apple tree in their place. One of the others died in a reasonable spot, where we cut open the fence, so it's no great loss.
I have half a dozen baby lavender plants, which by the end of summer ought to be big enough to put in the ground. I will probably add one or two to my front flower garden and put the others along our street side fence for the bees to enjoy.
We discovered violets on the neighboring house lawn! The kids and I collected some, and some dandelions, to make flower shortbread cookies. Very cute.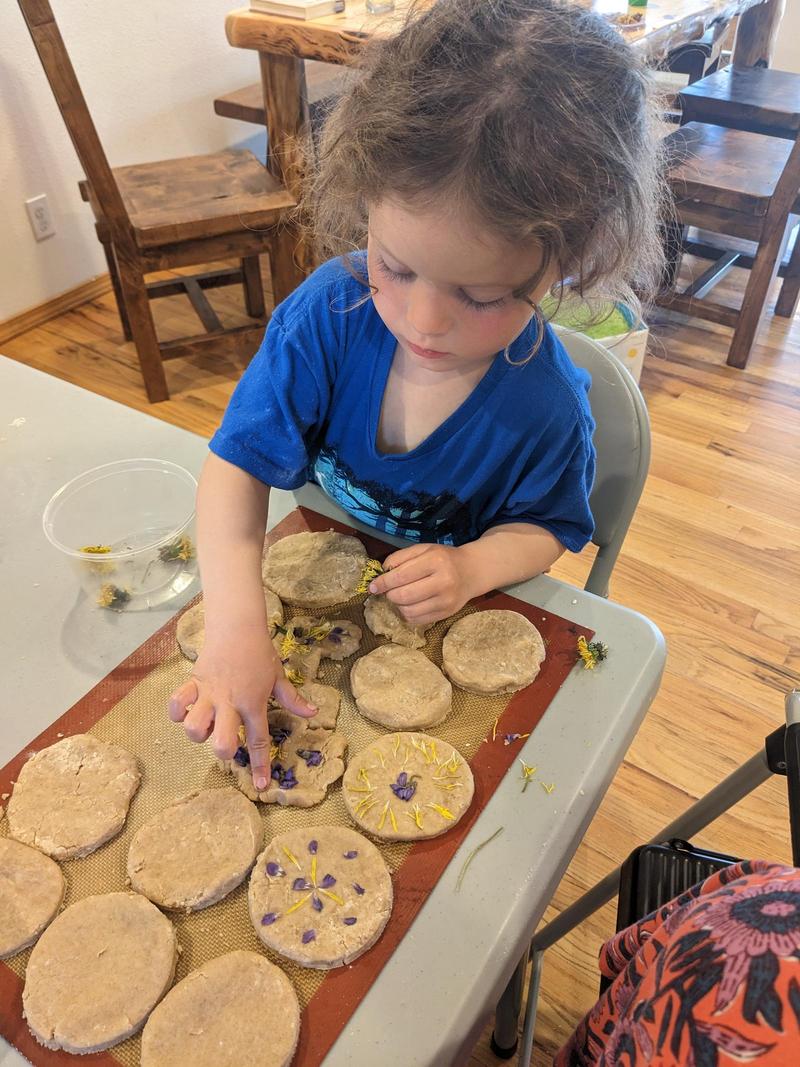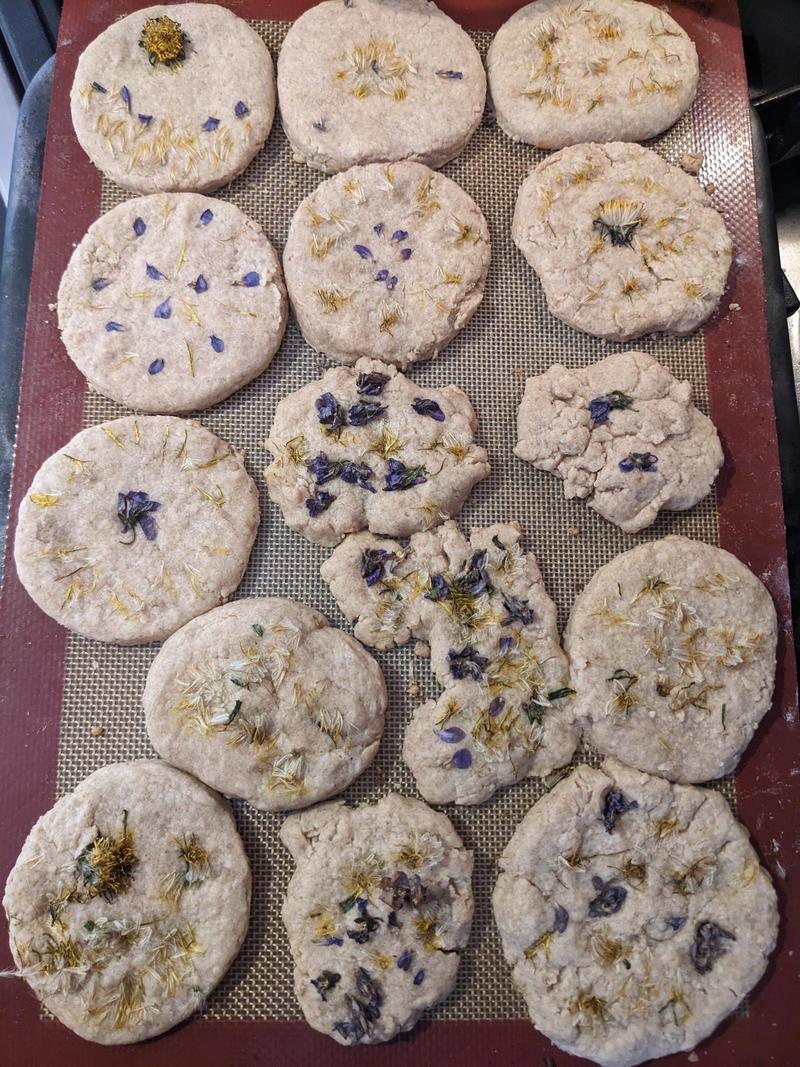 Bees?
Another new addition this year is bees! Randy got 4 hives. We happened to meet a family at our co-op (read about it!) who keep bees, and teach beekeeping classes, and sell hives with the bees already installed, so you don't have to figure that part out all on your own.
We put them on the side of our house. We're on a corner lot. The side along the street isn't particularly useful: it's covered in landscaping rocks and shaded by a large purple plum tree. There's a shed. It's not a super wide area. Perfect for the bees! We placed the hive facing the fence so they are encouraged to fly out, up, over, and away.
Beekeeping will be Randy's job more than mine, at least this year. I have enough going on with the garden. You can only add so many homesteading projects a year! And, come fall—or whenever the honey harvest is, late summer?—we will have a host of more new projects as we learn what to do with all the honey, wax, and other bee-made products.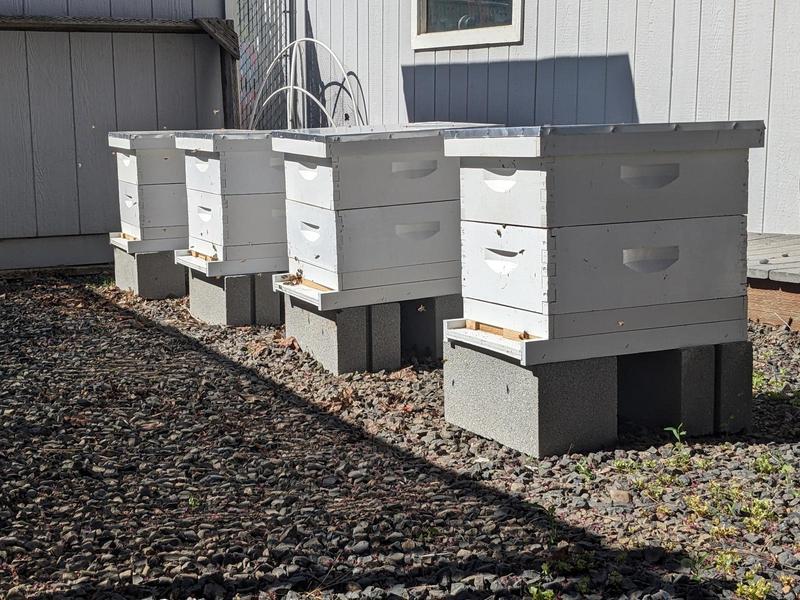 Record keeping
This year, given all that's going on, I think I may try to keep better track of what I'm growing where in the garden. So far, I've mostly been winging it… I have a spreadsheet with some notes, but now that I can rotate crops and there are more crops, I need to track what's where and how it did. There's too much to remember otherwise! I may switch to a notebook with a rough map of the yard that I can write on.
I'd also like to get a sense of how much produce we harvest. To start, we had our first rhubarb harvest a week ago. I weighed all the stalks: 15 lbs!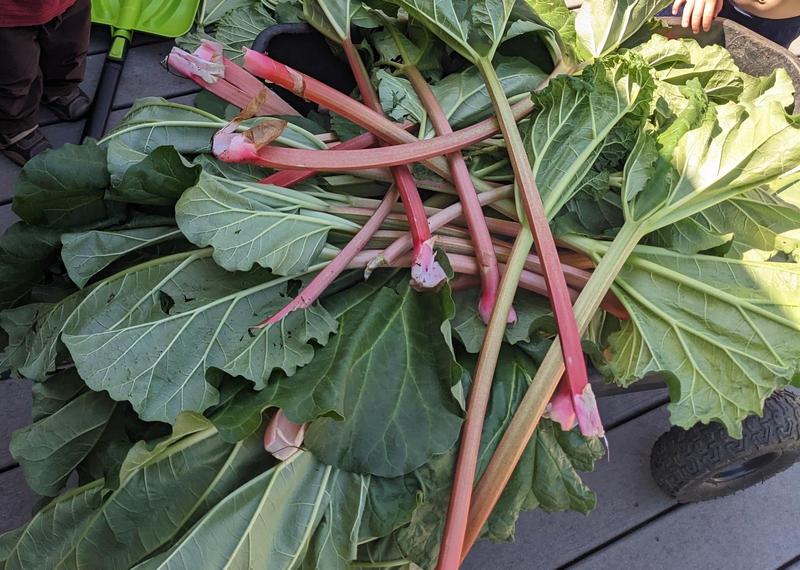 All in all—it's going to be a good gardening year!
---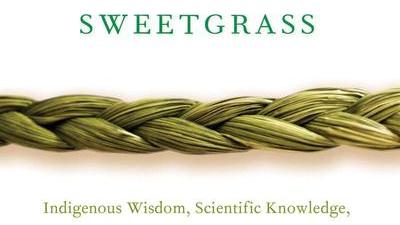 Book Review: Braiding Sweetgrass: Indigenous Wisdom, Scientific Knowledge, and the Teachings of Plants by Robin Wall Kimmerer
This book is a fascinating examination of belonging, attachment to place, heritage, culture, connection to ancestors, and, our relationship with the world around us.